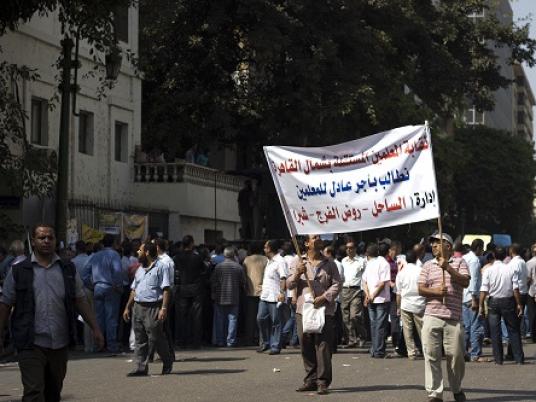 From Alexandria in the north to Aswan in the south, protesting teachers from numerous governorates descended upon the Cabinet for a third day of protests on Monday.
Around 2,000 teachers and academic employees embarked on an open-ended protest outside the Cabinet on Monday, calling for higher salaries and improved working conditions, among other demands.
The previous two days were characterized by small localized protests — primarily in the Nile Delta governorate of Beheira, and small rallies outside the Ministry of Education in Cairo.
These protests were called for by the Independent Teachers' Syndicate and the Federation of Egyptian Teachers, along with a host of educational institutes. The official Teachers Syndicate, up to 1 million strong, has not endorsed the protests.
The independent union activists, however, are calling the protests "the second teachers' uprising," recalling last year's nationwide strike, which they hope to repeat. Teachers and education employees have threatened to escalate their protests into strikes on 16 September, the start of this academic year, if their long-standing demands are not met.
Their demands include: a fixed salary scale starting with a minimum wage of LE1,200 for custodial workers, LE2,000 for administrative employees, and LE3,000 for full time teachers; an incremental pay raise scale according to educational degree and years of service; full time contracts for full time work; restructuring the Ministry of Education and purging it of corruption; ending the phenomenon of private tutoring; the appointment of teaching graduates in public schools; improved pensions and insurance plans; housing for traveling teachers; and representation of teachers in bodies that draft national educational policies, programs, and school curricula.
Teachers and academic employees claim that these demands were the same demands that they put forth last year, to little avail.
"What has the Ministry of Education granted us in terms of our demands? Nothing," says Cairo primary-school teacher Essam al-Sayyed. "They only raised our salaries by LE150 or LE200. The authorities have not met our demands, especially not our primary demand for a minimum monthly wage of LE3,000."
Sayyed makes only LE730 (~$US121) per month, although he holds a university degree and has been teaching at his public school for the past 15 years.
Yasser Abbas, also from Cairo, says, "I'm a teacher at a public secondary school, and after 29 years of service I make only LE1,229 per month."
Abbas explains that "poor salaries are what push teachers to give private tutoring. During their classes we find that teachers are reluctant to fulfill their educational duties to their students, because they know that they can make much more money by giving private lessons after their classes."
"We want to end this phenomenon of private lessons, as do the students' parents. The best way to do so is to raise teachers' minimum wages, then teachers wouldn't resort to private tuition, and students would get quality education in the classrooms — not at home," he concludes.
"Other than private tutoring, some teachers work as taxi cab and tuk tuk drivers after their classes just to make ends meet," Sayyed adds.
Both Sayyed and Abbas are members of the official Teachers Syndicate, yet heeded the call of the independent syndicates to protest. "Our syndicate is a yellow syndicate; it doesn't represent us or our demands," says Sayyed. "Our syndicate has sold us out, while the Ministry of Education is threatening to sack or arrest us if we chose to strike." Two other protesters held an official syndicate banner.
This week, the Ministry of Education announced that it "supports teachers' right to protest," but denounced strikes on the basis that they infringe upon students' right to education.
Another Cairo public school teacher, Ahmed Moharam, jumps into the conversation. "The ministry claims that striking will deny students their education," he says. "Yet if we strike, we will do so for the sake of providing students with a higher quality and standard of education. Striking shouldn't be considered a crime or a selfish act."
A few tents were pitched on Qasr al-Aini Street outside the Cabinet, indicating that this protest may potentially last for several days.
Ibrahim Abdel Latif, a young public school teacher from Monufiya Governorate, exclaims, "I've been working full time for the past six years, and I only make LE600. I'm married and have a child, yet my salary is not enough to meet my own personal needs let alone those of my family. I've come here to Cairo to protest out of desperation."
Hundreds of teachers from the governorates of Cairo, Giza, Alexandria, Port Said, Beheira, Aswan, Sharqiya, Gharbiya, and Ismailia have reportedly threatened to escalate their protests into a strike if their demands are not met before 17 September. The real likelihood of a mass strike is unclear, however. There have been no media reports of strike threats from the remaining 17 governorates.
Abdel Latif claims that teachers were conducting protest rallies outside the Ministry of Education's bureau in the city of Shebin al-Kom in Monufiya on Monday. But Abdel Latif believes that strikes are unlikely to break out in the traditionally quiescent governorate.