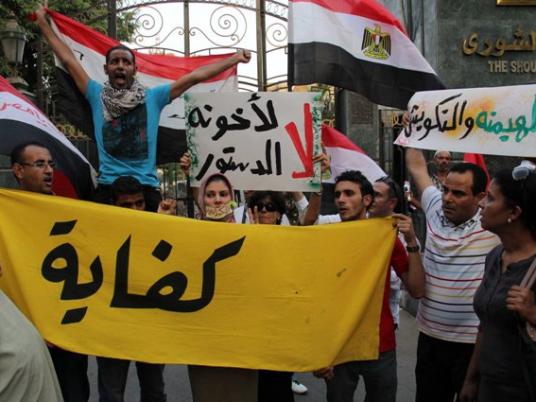 Steps taken by judges could be the beginning of a general strike leading to civil disobedience, members of the National Salvation Front coalition said Thursday.
"The front called for dropping the constitutional declaration once issued, and considered it null," front spokesperson Wahid Abdel Meguid said in a press conference held after a meeting for the front's leaders at the Wafd Party headquarters.
The front said it would resume peaceful protests for the sake of protecting the people's rights.
Meeting attendants included Wafd Party chief Al-Sayed al-Badawy, Conference Party chief Amr Moussa, Popular Current Party founder Hamdeen Sabbahi, Democratic Front Party Chief Osama al-Ghazaly Harb, National Association for Change figure Abdel Gelil Mostafa, Karama Party chief Mohamed Samy, and Development and Reform Party chief Mohamed Anwar Essmat al-Sadat.
Several opposition groups had formed the National Salvation Front in response to the recent constitutional declaration made by President Mohamed Morsy, which expanded his powers and made his declarations immune to judicial review until a new parliament is in place.
Edited translation from Al-Masry Al-Youm