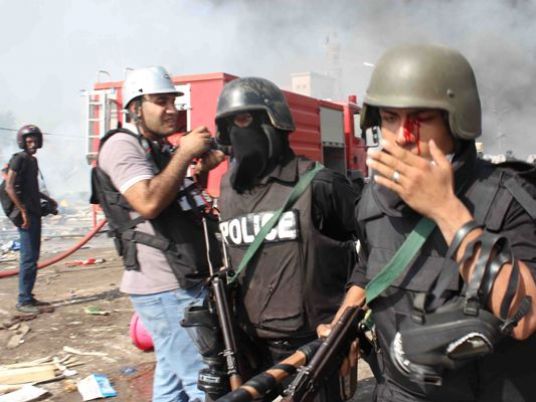 Egypt's National Council for Human Rights (NCHR) criticised on Friday the Human Rights Watch (HRW) report on the dispersal of Rabaa and Nahda sit-ins, describing it as "low in professionalism" and "deliberately misleading".
The report, which has stirred controversy since its release earlier in August, accused Egypt's security personnel of "systematically" killing at least 1,150 pro-Morsy protesters in July and August 2013. It added that such killings "probably amount to crimes against humanity" and urged UN investigation.
"Although the NCHR does not issue comments on reports released by organisations working in the same field, we decided to respond to the report's obvious fallacies and presumptions," NCHR said in a statement.
The "author" of the report undermined the "pivotal" testimony of a reporter about the death of one of the police officers, the NCHR said, adding that a "fake" interview was also attributed to the reporter by the "author".
According to the statement, the reporter has asked the HRW administration for a correction, which "challenges the credibility of the report".
"The report disregarded human rights violations by the sit-ins' administration," the NCHR emphasised, adding that they were not assigned responsibility for any of these "crimes", which included kidnap, torture, and using protesters as human shields.
"The HRW report added that the NCHR did not hold the Ministry of Interior (MOI) accountable enough for not providing safe exists to the protesters," the statement said, citing it as "proof" that the "author did not read the NCHR's report at all".
NCHR's report on the Rabaa dispersal, which was released on 16 March, was described as having "significant methodological weaknesses that seriously undermine its findings" on page 16 of the HRW report.
"Nonetheless, the NCHR report concluded that security forces used excessive force on August 14 and faulted security forces for insufficient warnings and failure to provide a safe exit for much of the day." the HRW report added on the same page.
HRW Executive Director Kenneth Roth and Middle East and North Africa Director Sarah Leah Whitson were denied entry earlier in August at the Cairo International Airport and forced to fly back . Roth and Whitson were travelling to Cairo to attend the Tuesday release of the report.
Egypt's State Information Service (SIS) and the 30 June fact-finding committee eariler condemned the report, describing it as "negative and biased."