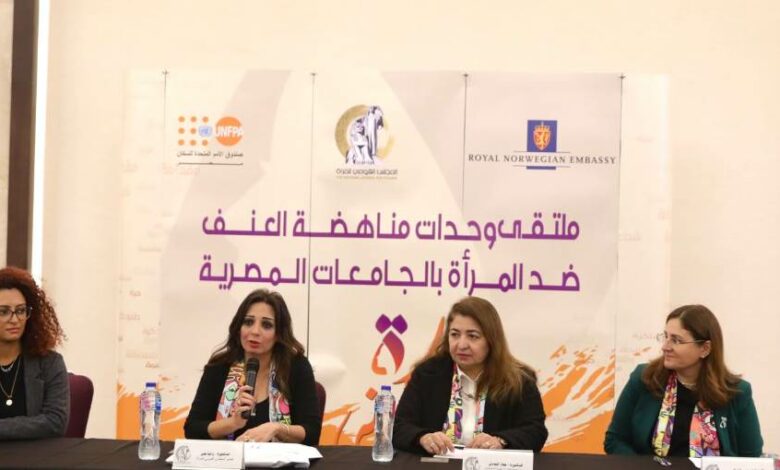 Members of the National Council for Women (NCW) Rania Yahya said that the number of units to combat violence against women in Egyptian universities has reached 25 units, noting that a book is currently being prepared on the mechanisms of work for these units.
This came during the activities of the forum of units to combat violence against women in Egyptian universities with the aim of reviewing the units' achievements and challenges, sharing experiences and best practices, and identifying the units' role in raising awareness of issues of violence against women, and legal materials related to women's rights and protection.
The forum was held within the framework of the 16-day campaign activities to combat violence against women, which are implemented by NCW in cooperation with the United Nations Population Fund under the slogan "Be the One".
Yahya pointed out that the units organized an important competition that was aimed at encouraging male and female students to present distinctive artworks that express the principles of freedom, respect, equality and combating all forms of violence and discrimination against women, stressing the importance of social networking sites to receive women's complaints within universities.
For her part, NCW member Naglaa al-Adly confirmed that NCW works under the umbrella of Egypt's Vision 2030, especially the protection axis related to combating violence against women, noting the council's role in raising awareness and encouraging girls to report case violence, raising awareness through door-knock campaigns, and the council's campaigns on the various media, in addition to the role of the Complaints Office in providing support, legal assistance and psychological advice.
Sally Zohney, Gender Specialist at United Nations Population Fund (UNFPA), expressed her pride in the partnership and cooperation with the Council, explaining that the Fund pays great attention to the issue of combating violence against women by working to raise awareness through campaigns, community partnerships, existing social services and coordination between national authorities.
She said that universities are an essential space for all students to feel that they are a place to receive their complaints, explaining that Egypt has become on the international map in the referral system, law and social bodies, and that it seeks to achieve integration in the different governorates.