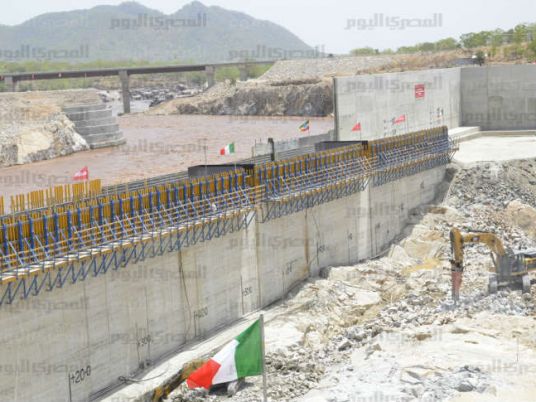 Negotiations in Cairo with Sudan and Ethiopia over a dispute regarding the technical studies related to Ethiopia's Grand Renaissance Dam have been a success, according to Egypt's Water Resources and Irrigation Minister Hossam Moghazi.
Moghazi said a ninth round of negotiations between the three countries, which concluded Sunday, successfully addressed disagreements over the two French and Dutch consultancy firms they assigned to assess consequences of the dam which Egypt and Sudan fear could affect their Nile Water shares.
Disagreements between the two technical offices understandably prompted both to offer to conduct separate studies, a proposal rejected by Egypt who insists on a joint study agreed upon in an August resolution.
A meeting by the ministers of irrigation and foreign affairs from the three countries is now scheduled to take place in Sudan between November 21 and 23, said Moghazi, adding that the meeting will host representatives from both technical offices to resolve the disagreement.
During the meetings, Moghazi expressed Egypt's concern over Ethiopia's fast pace in the dam's construction while talks about the technical studies are still ongoing.
Ethiopia tressed that current negotiations would not mean a halt to construction.
Egypt fears the dam would affect its historical Nile water share of 55.5 billion square meters, which is based on a 1959 agreement with Sudan, although Ethiopia has reassured Cairo about its water share.
An agreement signed in March by Egypt, Ethiopia and Sudan, which seeks to ensure no harm is caused to any country's water security, is seen by some observers as an official Egyptian-Sudanese recognition of the Ethiopian dam.
Edited translation from Al-Masry Al-Youm