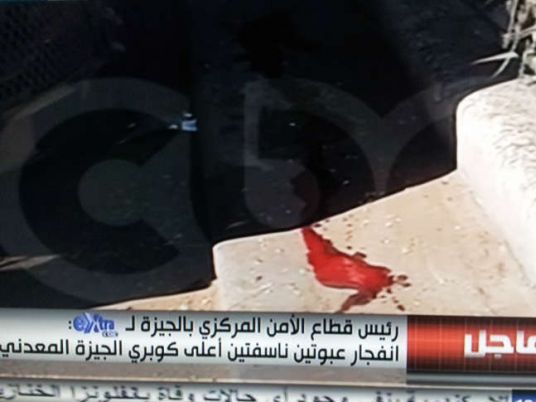 A new group has claimed responsibility for the bombing that targeted a police force above an overpass at Giza Square Friday morning.
"Walla" (set fire), as it calls itself, said it carried on the blast that left four police officers and two others wounded. It said on its facebook page that it had "begun its operations with the Giza bombing."
Officials reported two IEDs had exploded, targeting a police force on its way to a checkpoint above the overpass.
The group, however, denied using IEDs, claiming it only focuses on "Molotovs and other primitive devices such as sonic bombs, pellets and pyrosol."
Six were injured in an explosion above an overpass at Giza Square early Friday, the Health Ministry said in a press statement.
The injured were taken to hospital and no deaths were caused by the blast, the statement said.
"The Friday attack is just the beginning. The coup will be combated and defeated with all possible means except for killing….The regime will fall and we will celebrate victory very soon, God willing."
Walla denied any links to the Muslim Brotherhood, saying such claims are "totally untrue."
The group, on its Facebook page, says it was established on 15 January, defining itself as "a group resisting the Interior Ministry" that relies on "setting fire to prisoner carriers, police vehicles and all tools of repression and murder." It says it does not instigate the murder of humans disregarding their political stances."
"Those terrorist operations will not discourage us from performing our duties," Giza security chief Kamal al-Daly told Al-Masry Al-Youm. "The IEDs were planted half an hour before the force arrived to the checkpoint."
Prime Minister Hazem al-Beblawy condemned the blast, stressing that terorrism will not stop Egyptians from resuming "their steady steps towards the future."
Edited translation from MENA and Al-Masry Al-Youm