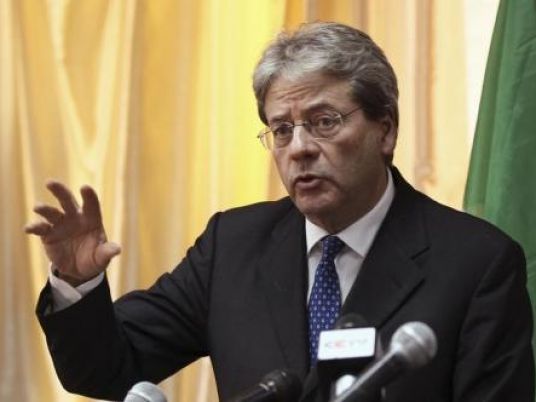 The new Italian Ambassador to Egypt Giampaolo Cantini will arrive in Cairo on Thursday and is expected to present his credentials to President Abdel Fattah al-Sisi within days.
The new Egyptian Ambassador to Italy, Hisham Badr, will arrive in Rome on Friday.
Italian Plenipotentiary Minister Stefano Cantini has been in charge of the embassy since Italy withdrew its former ambassador Maurizio Massari after the murder of Italian researcher Julio Regini in Egypt in February 2016.
The Italian Embassy in Cairo said that Cantini worked on December 1, 1988 as First Commercial Secretary of the Italian Mission in Addis Ababa, then First Secretary of the Permanent Mission of Italy to the United Nations in New York on August 1, 1989, and as a UN commission consultant starting May 1, 1993.
He was appointed to the Presidential Secretariat in the Office of Diplomatic Affairs on September 1, 1994. He served as Senior Adviser for Immigration and Social Affairs in Washington on August 30, 1999, then in the Third Office of the General Directorate for Multilateral Political Affairs and Human Rights In 2003. He was appointed as head of the bureau in 2003, and later as a plenipotentiary minister on January 2, 2005.
Cantini served as Consul General of the First Class in Jerusalem on January 30, 2012, as Director General of the Department of Cooperation for Development on January 16, 2013, and was promoted to Ambassador on January 2, 2016, then Assistant Secretary General of the Italian Foreign Ministry in August 2016. He was awarded the Order of the Italian Republic in 2008.
Italian Prime Minister Paolo Gentiloni told Sisi in August that his country was willing to return the Italian ambassador to Egypt.
Edited translation from Al-Masry Al-Youm