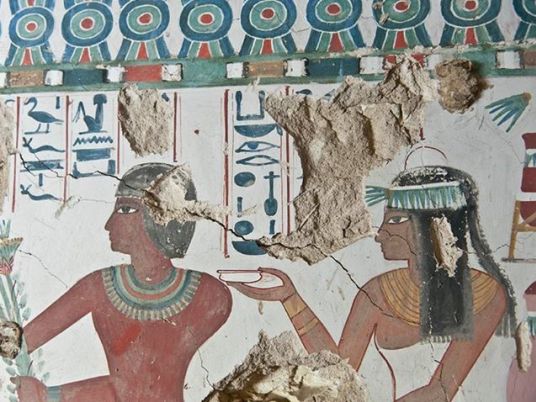 The Antiquities Ministry has unearthed a new pharanoiac tomb at the Al-Qurna archeological site in the Luxor governorate. The ministry, in collaboration with the American Research Center mission, found the tomb while digging in the area.
Antiquities Minister Mamdouh al-Damaty said that the new cemetery belongs to a person named Sa – mut, while his wife is called Ta Kha-At. It is estimated that the tomb dates back to the era of the modern state in the eighteenth dynasty of the New Kingdom (1550-1070 BC)
Damaty noted that the cemetery has various scenes that reflect the nature of daily life during that era. Moreover, it illustrates the ceremonies made for the tomb owner and his family.
"Apparently, the tomb might has been looted, because some inscriptions and scenes have been erased," Damaty said.
Head of the American Research Center mission John Sherman said that the tomb was discovered a few days after the discovery of the Amen Hotep Rebeo tomb, at the same archeological site. This finding opens the way for further discoveries in the next phase, which will need more work to reach additional scientific and archaeological discoveries.
On 3 March, Damaty reported that the ministry discovered a new tomb at the Al-Qurna archeological site in Luxor for a person named Amonhotep, who was the porter of Amun.
Meanwhile, archaeologist Ali Henawi, an Egyptian team mission member said that the new tomb is located in the east of the tomb No. TT110, as both share an open yard.
"The new tomb consists of a cross-sectional reception, centered with a well filled with Rudiment," Henawi said.
Edited translation from Al-Masry Al-Youm