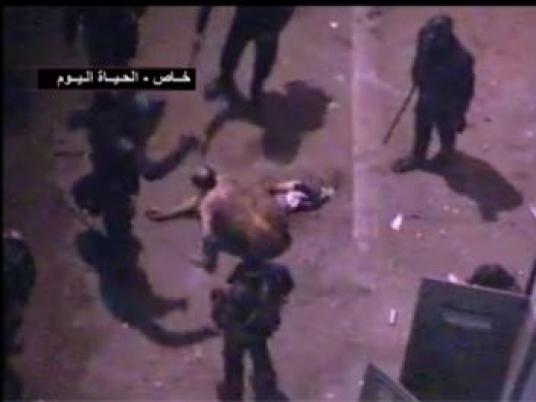 Prosecutors are now claiming that Hamada Saber, who was dragged, stripped naked and beaten up in front of the Ettehadiya Presidential Palace, was actually assaulted by protesters, and that security forces were the ones that came to his rescue.
The Heliopolis Prosecution is alleging that Saber denied reports that security assaulted him. Prosecutors claim he told them that protesters assaulted him, thinking he was from the security forces because he was wearing black.
According to prosecutors, Saber was also initially beaten by security forces who thought he was a demonstrator.
The prosecutors' claims fly in the face of overwhelming reports and video evidence to the contrary. A video from the Al-Hayat satellite channel showed the protester being assaulted by security forces, and the Interior Ministry released a statement expressing regret over the incident.
Additionally, Interior Minister Mohamed Ibrahim personally telephoned Saber on Saturday to apologize for the attack, promising Saber that the ministry would assist him with healthcare and finding a job after his recovery.
Saber's beating has further provoked the wrath of protesters opposed to President Mohamed Morsy and the Muslim Brotherhood government, and comes after earlier reports from Human Rights Watch and other organizations warning that human rights violations have continued unabated in Egypt even after Morsy's election last summer.
Edited translation from Al-Masry Al-Youm