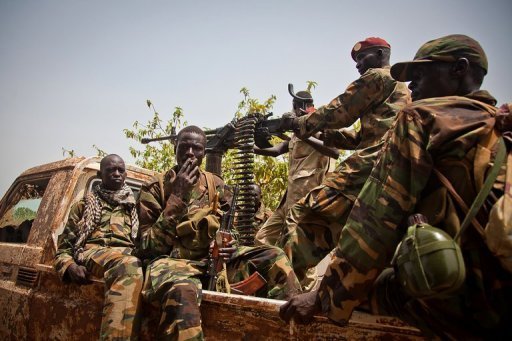 Nine Ugandan soldiers have been killed and 12 others wounded during a month fighting in South Sudan, the army said Tuesday, dismissing rebel claims to have killed scores.
Ugandan President Yoweri Museveni confirmed last week that troops had been killed during combat in the war-ravaged young nation in support of President Salva Kiir.
However, army spokesman Paddy Ankunda said Tuesday that nine had died in a single rebel ambush.
"Let there be no speculation any more," Ankunda said. "Uganda has lost nine soldiers and 12 injured in South Sudan."
Ugandan troops deployed in South Sudan five days after fighting began last month, and have a taken a key role in the combat, including the recapture of the strategic town of Bor on Saturday.
Last week however Kampala's parliament endorsed the decision to send troops to South Sudan, with the defence minister saying the army had help avert "genocide."
Deadlocked ceasefire talks in Ethiopia are being mediated by the East African regional bloc IGAD, even though Kampala is a key member and the rebels have expressed concern about its neutrality, claiming Ugandan fighter jets have tried to kill their commanders.
The rebels, led by former vice-president Riek Machar, have demanded Uganda withdraw all forces.
No announcement has been made as to how many — and for how long — Ugandan troops would be deployed.