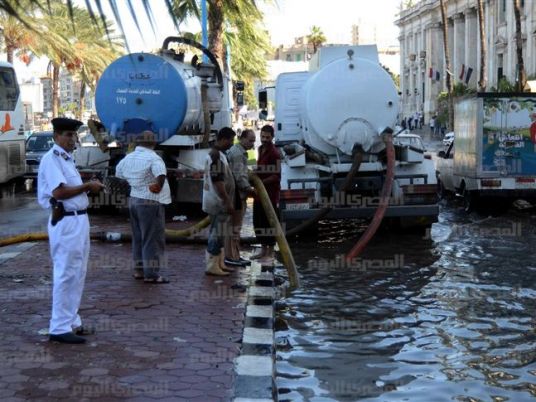 A 9-year-old girl died of an electric shock on Tuesday after touching a lamppost surrounded by water from heavy rainfall that hit Sharqiya governorate.
A statement from Sharqiya Security Directorate said that the lamppost had short circuited because of bad weather that hit 10th of Ramadan City.
Local media reports said that the pupil was returning from a private tuition class amid the poor weather, and had touched the lamppost accidentally.
The Egyptian government suspended studies in schools and universities on Wednesday due to heavy rains that caused floods in some areas.
Different governorates in Egypt saw rains so heavy it formed water pools, causing a traffic crisis.
The unstable weather is expected to continue until Thursday, and there will be less chance of rain on Friday.
The spokesman for the Egyptian Meteorological Authority (EMA) Ibrahim Atta said that there is a possibility of heavier rains than what came down Tuesday.
The Ministry of Local Development said in a statement on Tuesday evening that it is following up on the bad weather and the heavy rainfall in Cairo and other governorates.
The ministry also said that it is following up with crisis management in Cairo governorate to take all necessary measures to evacuate the accumulated rains in some of the main tunnels and streets in the neighborhoods, which hampered traffic and the movement of citizens.