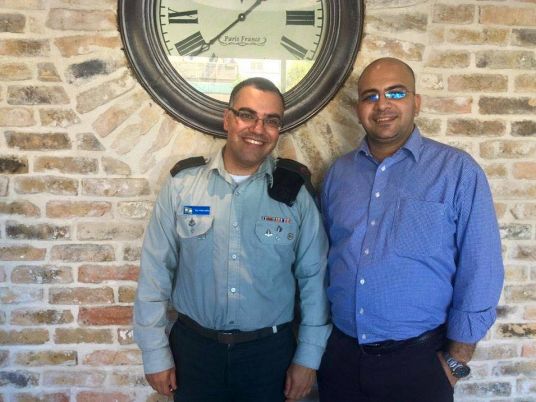 The Journalists' Syndicate has denied that any of its members took part in a press trip to Israel by a group of Arab journalists that was organized last week by the Israeli government as a public-relations exercise.
On Tuesday, the Israeli army's Arabic-language spokesman Avichay Adraee made reference to the press trip on his Facebook page, including a photograph of himself standing next to an alleged Egyptian journalist by the name of Rami Aziz.
No further details were given of Aziz, although media reports suggest that he may be a journalist of Egyptian origin residing in Europe.
Mahmoud Kamel, a member of the Journalists' Syndicate board, said in press statements that Aziz was not registered as a member of the syndicate. He went on to describe the press trip as "part of a conspiracy by the Zionist entity."
Meanwhile, Hassan Ka'bia, deputy spokesperson for the Israeli Foreign Ministry describe the trip as a "wonderful initiative".
According to the Ynet online news portal, the trip was arranged by the Israeli Foreign Ministry as part of a "new initiative to reach out to the Arab-speaking world."
Ynet said the trip involved four Europe-based journalists of Syrian, Iraqi and Egyptian descent who work for a range of international media outlets.
The journalists were allegedly taken on a tour of sights in Israel, including the Holocaust Museum Yad VaShem, the Kneesset and the Supreme Court. They also also met with Israeli journlists and officials and toured Jerusalem, Ynet said.
The Egyptian Journalists' Syndicate does not allow members to visit Israel or have contact with Israeli officials, and it has reprimanded members in the past for breaking the rules.
Egypt and Israel signed a peace treaty in 1979 to put an end to 30 years of intermittent warfare. The deal was unpopular with many Egyptians, who called for it to be rescinded.
Edited translation from Al-Masry Al-Youm