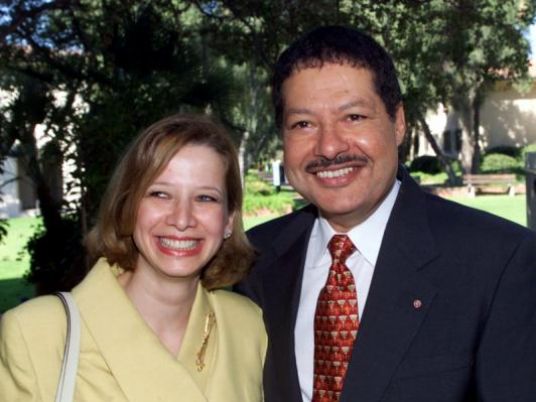 Chemist and Nobel Prize laureate Ahmed Zewail, who died in the United States on Tuesday, was killed by a "sudden virus", according to Sherif Foad, spokesman for the scientist.
In a phone-in with the "Hona al-Asema" talk-show on the satellite channel CBC, Foad spoke of recent events in Zewail's life, including the illness that led to his death.
Zewail visited his daughter in San Francisco a week ago and became later infected with a "sudden virus" that prevented him from speaking properly, said Foad. Unable to talk, Zewail communicated with his media advisor over WhatsApp and email until two days before death, Foad said.
The Egyptian-American scientist announced in 2013 that he was suffering from a cancerous tumor on his spinal cord, but he later said he was recovering.
"Zewail's wife contacted me and said that his sole wish was to be buried in Egypt," Foad said, adding that the late chemist bought his tomb six month ago.
Heba Mostafa, Zewail's niece, told al-Masry al-Youm on Wednesday that her uncle was in good health after surgery to remove the tumor from his spinal cord, having recovered from his ordeal.
She said his death was a surprise to the family, especially as he was planning to spend the Eid al-Adha holiday with them, setting the date of August 10 for his return to Egypt.
"He was willing to spend Eid al-Adha with us in Egypt," Mostafa said.
A military funeral service is being arranged for the chemist, whose body is due to arrive in Cairo on Sunday, said Foad.
The spokesman added that Zewail's family has asked those wishing to pay for messages of condolence in the newspapers to donate the money instead to the Zewail City of Science and Technology, a project dear to the late chemist's heart.
Informed sources have told al-Masry al-Youm that a military funeral service will be held in Field Marshal Mohamed Hussein Tantawi's Mosque in the Fifth Settlement, and will be attended by Sisi, Defence Minister Sedki Sobhi and senior leaders from the armed forces.
Messages of condolence have been published by President Abdel Fattah al-Sisi, the US and British embassies in Cairo, Parliament Speaker Ali Abdel Aal, Al-Azhar's Grand Sheikh Ahmed el-Tayeb and the Nobel Prize organization.
"Egypt lost a devoted son and scientific genius who made unremitting efforts to raise Egypt's name high in various international scientific forums," Sisi said in a statement.
The same presidential statement added that the deceased scientist was keen to transfer to the Egyptian people the fruits of knowledge and research that have enriched the fields of chemistry and physics.
Zewail was awarded the 1999 Nobel Prize in Chemistry for showing that it is possible with rapid laser techniques to study in slow motion how atoms in a molecule move during a chemical reaction down to tens of femtoseconds (fs) or 0.000000000000001 seconds.
Zewail's experiments led to the birth of the research area called "femtochemistry", which enables us to understand why certain chemical reactions take place but not others, according to the Noble Prize Facebook page.
The spokesman for the Cabinet, Hossam Qawish, said last night that Zewail was the best envoy for Egypt to the world, pointing out that the government is now considering how to honor his name in the best way.
Zewail was a proponent of continued close ties between Egypt and the US. In 2014, he wrote an opinion piece in the Los Angeles Times urging the US to continue its financial backing of Egypt after the ousting of former President Mohamed Morsi.
The death of Zewail comes as another US-based Egyptian scientist, Essam Heggy, announced his support for a presidential campaign initiative to challenge Sisi in the 2018 presidential elections. A planetary scientist, Heggy has studied in both Europe and the US and worked on NASA projects.