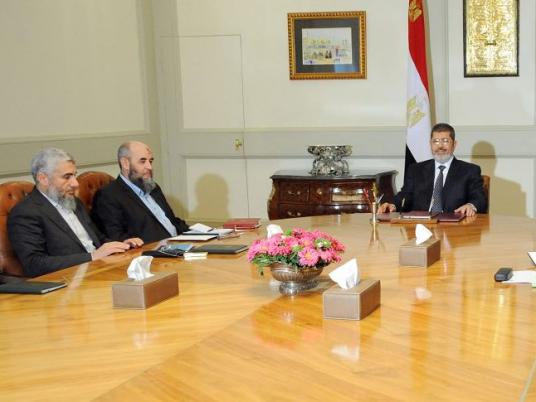 The Nour Party is not seeking an alliance to contest upcoming parliamentary elections, senior member Salah Abdel Maboud told Al-Hayat satellite channel Tuesday, but it would only consider doing so with Islamist groups.
"Nour Party will only ally with Islamist parties and we will field candidates in all constituencies in the coming election," he said, amid much speculation over how alliances will play out in the next vote.
His comments follow a recent announcement by conservative Islamist group Jama'a al-Islamiya that its political party would not include the Nour Party or the Muslim Brotherhood's Freedom and Justice Party in its alliance.
The Salafi-oriented Nour Party won the second most seats after the Freedom and Justice Party in the now-dissolved 2012 People's Assembly.
Maboud also said recent disagreements between his party and the presidency have nothing to do with the Freedom and Justice Party. Referring to the dismissal Sunday of presidential advisor Khaled Alam Eddin on corruption allegations, Maboud claimed that some advisors influence the president to make poor decisions. He added that a presidential advisor does not have any official power that they can exercise to profit illegally from the post.
The decision this week prompted anger from Salafi groups who believe the dismissal was politically motivated.
Maboud also said that the opposition coalition National Salvation Front was the first to support the Nour Party initiative to resolve the country's political problems and unrest, while the FJP expressed reservations.