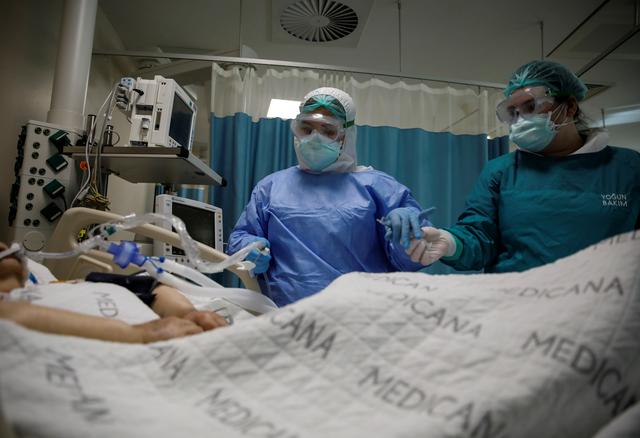 Nurses at Mansoura Health Insurance Hospital went on strike on Tuesday after the Egyptian Health Ministry refused to test them for coronavirus.
Five doctors from the intensive care unit at the hospital were infected with the virus, prompting nurses to request that they be tested.
The nurses went to the hospital yard and chanted, "Where is our preventive medicine?"
They demanded that swabs be taken from all hospital staff.

A doctor who worked in the hospital twice a week showed symptoms, before testing positive for the virus. Four other doctors who came in contact with him also tested positive.
The five doctors were quarantined on Tuesday, and five nurses suspected to have virus have been isolated inside the hospital.
The nurses said: "We all deal with each other, but unfortunately swabs were taken from doctors and not from nurses, even though we interact with patients and doctors more than the doctors do."
The hospital's Director General Rasha Mostafa said, "Doctors are currently working to identify those who were in contact with positive cases. There is no need for panic or anxiety. All medical and precautionary measures will be taken to protect all hospital employees."
She added: "The nursing department has a right to be concerned, but we will not allow any neglect and will follow all medical and preventive measures in order to preserve their health."
Director of the northeast delta branch of the hospital, Mesbah Mohamed Amin, and other senior management officials held a meeting with representatives of the nurses and discussed taking necessary preventive measures.
Edited translation from Al-Masry Al-Youm