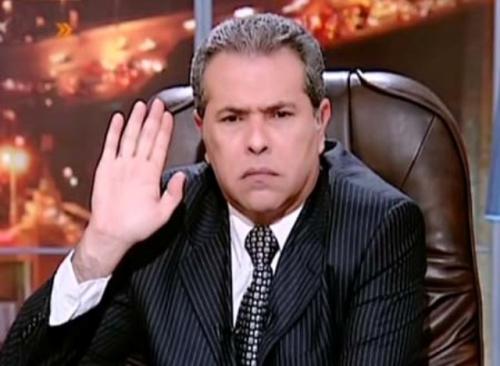 Dozens of supporters of the controversial TV host Tawfik Okasha staged a demonstration on Saturday outside the office of the public prosecutor and the High Court. They protested the suspension of Okasha's Faraeen Channel and his being interrogated on charges of inciting violence against President Mohamed Morsy.
"No to oppression and injustice," read some banners. Other slogans included: "60 years of injustice," "Rule to the people, Morsy," and "No to the closure of Faraeen Channel."
Some of the protesters raised images for deceased former Intelligence Chief Omar Suleiman, others raised Egyptian flags and made victory signs while chanting against Morsy and the Muslim Brotherhood.
The rally caused traffic congestion for nearly half an hour outside the High Court. Police ended a few altercations between protesters and reporters.
Meanwhile, Okasha's lawyer Khaled Suleiman said that Okasha had received death threats from "banned" groups.
"We will not give in to continued attempts that seek to undermine the free media and the press which say the word of truth, and the demonstrators will flock daily to the High Court [for protest], until the end of interrogations with Okasha, and until Faraeen Channel, which represents a wide range of Egyptians, is reopened," Suleiman said.
State security prosecutors began investigations after three reports were filed against Okasha, accusing him of inciting his viewers to attempt to murder Morsy and of supporting a military coup d'état.
Edited transaltion from Al-Masry Al-Youm