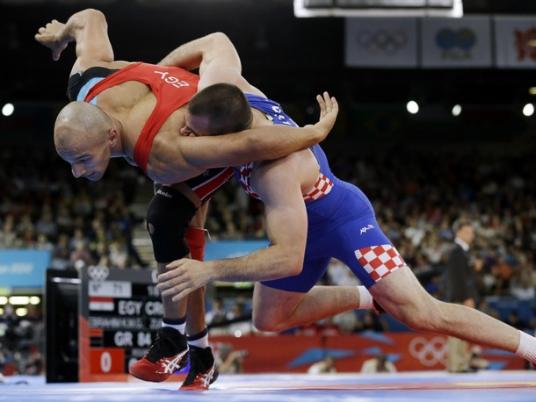 Karam Gaber, Egypt's Greco-Roman wrestler, won the silver medal in the 84 kilogram division Monday, raising the country's tally to two medals in the London 2012 Olympics, both silver. This puts us 40th on the overall list of medal winners this year.
Gaber's win also gives Egypt the edge in another competition: Egypt vs. Phelps. In the history of the Olympics, Egypt won only 26 Olympic medals from 1928 to 2012. Gaber's silver keeps Egypt ahead of the overall tally of American swimmer Michael Phelps, who alone and over three Olympics tournaments won a total of 22 medals, from 2004 to 2012. Phelp's 17 gold medals, however, dwarfs Egypt's total historical tally of seven.
This rather poor overall performance at the Olympics highlights many profound downfalls in the whole sporting system.
Despite participating in the Olympics for more than 80 years, Egypt has been an outright failure in producing champions with any sort of consistency. Athletes, administrators and trainers all agree that Olympics preparation is an exact science, and having successful sports programs depends on whether the country is able to abide by a precise and deliberate system that identifies talents and then nurtures them correctly. In Egypt, that just does not happen.
While it would be unfair to compare Egypt in the Olympics in a country like the US, which has won more than 2,000 medals in Olympics history and was one of the first countries to participate in the games, many countries similar to Egypt in terms of economic and political conditions are still performing better. Mexico and Turkey both have 82 medals, while Iran has 52. Despite participating since 1996 only, even Kazakhstan has the upper hand, with 45 medals.
No support
"Our problem, quite simply, is that we don't have a sporting system," said Wissam al-Gharably, the trainer of Egypt's national Taekwondo team. Gharably, who wrote his sports science PhD on the topic of training Taekwondo Olympians, said that while other countries plan rigorously many years in advance, "in Egypt, it is all random."
Gharably said sporting federations around the world scope out the talents at a young age, and they should know who would be participating in an Olympic event four to five years in advance.
"In Egypt, up to two years before the tournament, we don't even know who will be planning," he said.
A discrepancy between how Egyptian sports' associations work and how others worldwide do is that athletes' progression in sports in Egypt is more arbitrary. In countries with developed sporting systems, you know who will be representing them just by looking at athletes' performances in tournaments.
"In Egypt, coaches and sporting authorities are left to make decisions based on their own preferences," said Mohannad Saif, a former fencer who competed in Athens and was a representative on the Olympic Players Commission.
He said this leaves many athletes in limbo over their future in their respective sports, regardless of their performances, making many athletes too discouraged by the system to want to continue.
Egyptian Olympians tend to win despite the sports system in Egypt rather than as a result of it. Four months before the start of the London Olympics, Gaber complained publicly about the lack of support he was receiving from Egypt National Olympic Committee. He even decided to have his brother coach him as a way to avoid having to ask the Olympic committee for coaches.
Gaber won a gold medal in Athens 2004 and blamed the local Olympic committee for not supporting him in his medal-less trip to the Beijing Games.
"Someone like Gaber is such a rare talent, who would never lose if correctly supported," said Sherif al-Deeb, a former head of the Egyptian Swimming Association.
Deeb said most individual sporting achievements in Egypt tend to be as a result of raw talent rather than through the support of a supportive administration.
A case in point is Egypt's other silver-medal winning athlete in the London Games, Alaaeldin Abouelkassem. He was not one of the names mentioned as a potential medal winner in the media.
"We all knew he was going to do something," said Saif.
One month ago, few in Egypt knew who Abouelkassem was, despite his being a celebrated fencer with worldwide recognition. Saif, who trained with Abouelkassem, attributed his Olympic success as being 90 percent talent and 10 percent administration from the Fencing Association and the national Olympics committee.
Of Egypt's Olympic medals, 23 are in sports that rely primarily on strength and brute force, namely weightlifting, wrestling, boxing, judo and Taekwondo.
"Sports that rely on higher technique rather than pure strength are then neglected, because it costs more to develop them," Deeb said. "Egypt does not nurture talents or sports in general correctly."
That's with the exception of soccer players, who he said are the most pampered.
In 2009, the National Council for Sports chose Abouelkassem as part of a small group of elite athletes selected to be nurtured for Olympic prowess. Saif, who now runs fencing training facilities in the US, said it is a step in the right direction but that it needs to be more systematized.
"There's no organized way of picking out the talents, nurturing the talents and the sport itself, and creating the hype and awareness needed for the sport to be supported on a national level," Saif said.
In the pre-Olympic phase, Egyptians are not that bad.
"I could name a whole host of young players who you never hear of later because they are not nurtured correctly," Gharably said. By contrast, Tamer Salah, Egypt's star Taekwondo athlete, came on the national scene at age 14.
Simply put, Gharably said believes that "there is no youth development system in Egypt at all."
A problem with the system
After almost every major Olympic tournament, the media is filled with the same set of recommendations for Egyptian sporting authorities to develop sports in Egypt.
"Yes, we have the same set of problems, but we have the same system and are unable to develop it," Deeb said.
One main problem is that the sporting gods of Egypt consist of a small circle of administrators.
"The heads of the sporting associations that are in charge of each individual sport are voted on by the chairmen of sporting clubs, even though they do not know enough about each individual sport. The sports suffer as a result," Saif said.
He said elections are fraught with corruption and in-kind favors among candidates and voters. On top of that, the only monitoring authority, the Sports General Assembly, is composed of the same sporting club board members who voted for the sports association heads.
"Sports administration in Egypt is all a product of politics. The most important elements of the sports — coaches and players — are always forgotten," said Gharably.
All of those interviewed agreed that performance and coaching tend to suffer at advanced stages of the game. Associations do not plan their budgets well enough to accommodate for the introduction of new and developed coaching techniques to produce higher-level athletes.
The lack of oversight has other spillover effects that add additional embarrassment to sports authorities in Egypt, besides the underperformance of their athletes. This year was one of multiple scandals and bizarre and cringe-worthy mishaps.
The most noteworthy event happened on the last day of competition when two wrestlers lost their opening matches without even competing, due to the lack of administrative oversight. Abdou Omar Abdou Ahmed and Saleh Emara lost their first round matches in the 66-kilogram and 96-kilogram men's freestyle categories respectively by forfeit after failing to show up for their matches on time.
The two players showed up four hours late believing that their matches would start at the 1 pm based on the schedule of the previous seven days of Olympic wrestling. All matches on the final day of the Olympics were pushed up to make room for the closing ceremony.
Egypt's Olympic Committee also had athletes red-faced before any events were even played.
Yomna Khalaf, a member of the synchronized swim team, revealed that the delegation was given counterfeit clothing — an embarrassment for the players and for everyone in the Olympic committee.
As a coach, Gharably is forced to constantly oversee many fringe elements of a tournament to ensure that his team is correctly prepared.
"I would go pick up equipment and clothes myself just because I know how much good equipment affects their morale," he said, indicating that this year's Olympics clothing fiasco is a symptom of a much deeper problem of incompetence from the national committee. "Even though it is specifically the [committee's] job to take care of the players, they made a big mistake," Gharably said.
He and others believe the problem is more mismanagement than outright corruption on the part of the authorities involved. The whole sporting system allows for poor decision making, or "legislative defaults," as Saif called them.
"Those in charge of sports in Egypt are running the system incorrectly, period," Gharably said.
The Taekwondo coach saw one silver lining this year in Egyptian sports.
"Hesham Qandil made a smart decision by splitting up the Youth and Sports ministries," he said. The ministries used to be combined into one. "They're two completely different things and should not have been run by the same minister. Hopefully this is the beginning of further smart decision making."
This piece was originally published in Egypt Independent's weekly print edition.