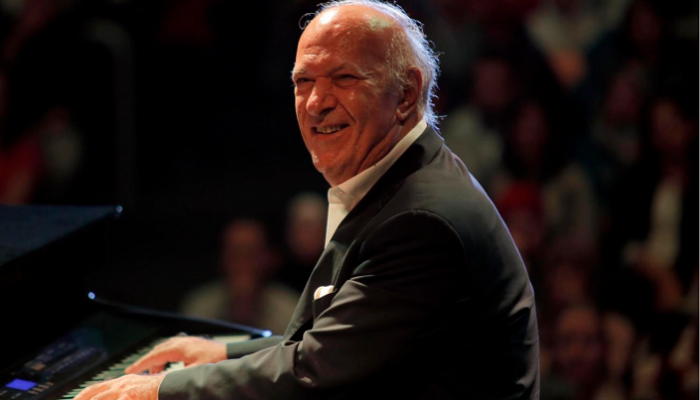 Renowned Egyptian musician Omar Khairat is preparing to perform two concerts at the Cairo Opera House, on the stage of the Grand Theater from June 12-13.
Concert details
The concerts will start at eight pm, and it will include a wide range of musical compositions, including: "Arfa", "Al-Liqaa Al-Thani/the Second Meeting", "Ghawayesh", "Executing the Dead", "Dameer Abla Hekmat" and "100 Years of Cinema".
Conditions to attend
Cairo Opera House announced a set of conditions for attending Khairat's concerts, the first of which is that opening the doors for the audience to enter the theater will be at seven pm, while the concert starts at eight pm in the evening.
Adhere to the official uniform for men and decent clothing for women (it is forbidden to enter in shorts or T-shirts) and facemasks are mandatory.
Pass through the sterilization gates, measuring temperatures and sit in the reserved seats only.
Children under seven years old are not allowed to enter.
A fantastic life and career
The veteran composer is the founder and conductor of the Omar Khairat Band.
In 1959, Khairat joined the Cairo Conservatoire, which is regarded as the premier music conservatory in Egypt.He studied piano and musical theory with Italian Maestro Vincenzo Carro.
After graduating, he continued his studies at the Trinity Laban Conservatoire of Music and Dance in England.
Khairat was born in Cairo and raised in a family of musicians. His uncle, Abou-Bakr Khairat, is a great Egyptian composer of classical music. Abou-Bakr Khairat was the founder of the Conservatoire Institute. Additionally, his grandfather Mahmoud Khairat was a musician, poet, and painter
His compositions have been featured in various, well-known movies and TV shows.
Khairat's official Facebook page recently announced that he won the most influential music figure award for 2022 from Daily News Egypt.