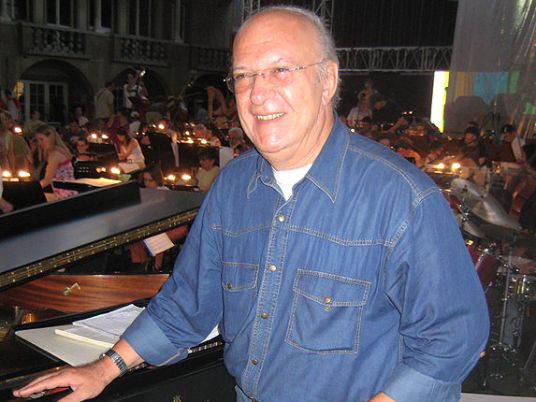 Acclaimed Egyptian composer and pianist Omar Khairat will perform at the Cairo Opera House's Grand Theater on Thursday, September 10.
Khairat's performances will include some of the biggest songs of his artistic career, such as: "Saber Ya Am Saber" (Uncle Saber), "The Miser and Me" (al-Bakheel wa Ana), "Miss Hickmat's Conscience" (Dameer Abla Hickmat), "Ghawayesh", "The Second Meeting" (Al Leqaa Al Thany), and "Matter of Principles" (Masalet Mabdaa).
This comes as part of the state's efforts to revive opera activities in Cairo, which includes concerts from major musicians in Egypt and the Arab world such as Ali Al-Hajjar, Medhat Saleh, the Cairo Symphony Orchestra and Jazz pioneer Yahya Khalil.
Khairat's last performance was in March on the Ministry of Culture's Youtube channel and on Twitter, coming as part of the Khalek fe al-Beit..Thakafa ben eadeak" (Stay home..Culture in your hands) initiative aiming to provide cultural services to those at home.
Khairat is also the founder and conductor of the Omar Khairat Band.
He was born in Cairo and raised in a family of musicians. His uncle, Abou-Bakr Khairat, is a great Egyptian composer of classical music, part of the first generation of such composers in Egypt.
An architect by profession, About-Bakr Khairat studied privately in Paris and founded the Cairo Conservatoire, which is regarded as the premier music conservatory in Egypt.
Omar Khairat, About-Bakr Khairat's nephew, entered the observatory in 1959, studied piano with Italian Maestro Vincenzo Carro, and took courses in music theory and composition at Trinity College in England.
Khairat, whose music is said to bridge the divide between contemporary Egyptian and Western genres, has composed a number of works, including The Magic Perfumes (1989) and Arabic Rhapsody (1992).
His compositions have been featured in various movies and TV shows and he has performed at the Cairo Opera House a number of times.