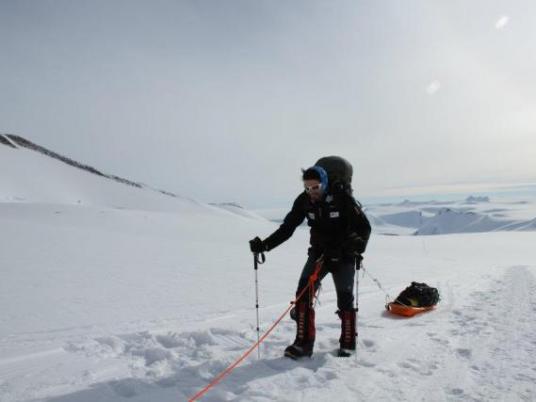 In a 10-day trip on the Antarctic ice, the Egyptian adventurer Omar Samra becomes the first person in history to climb three mountain peaks, a 'first ascent' in climbing terminology.
In recognition of this historic accomplishment, Samra was given the honor of naming all three mountains, so he named them after his family; Mount Samra (at 1,790 meters), Mount Teela (at 1,661 meters), and Mount Marwa (at 1,729 meters).
Samra succeeded in climbing seven mountains, six of which he accomplished via new routes.
The climber named Mount Marwa after his late wife who passed away while giving birth to their only daughter "Teela".
"It has always been a dream of mine to climb a mountain that has never been climbed before. And doing so in remote Antarctica was an even greater privilege," Samra said on his official Facebook account.
He continued: "In the end I exceeded my own wildest expectations by doing three first ascents and six new routes. And then I learned that I'd have the honor of naming all three."
"But what could these names be? I decided to let my intuition and the aesthetics of these three mountains guide me. Three beautiful peaks standing tall and untouched side by side for millions of years until we finally set foot on them and reached their summit. To me they represent the eternal, grace and purity, and for this reason I decided to name them Mount Samra, Mount Marwa and Mount Teela, after my family [Samra] and the two greatest loves of my life. May we always be together".
However, Samra believes that exploration is not just about being the first to go someplace, but also about trying to become the best version of yourself every day of your life; and to do so, we need to work hard constantly, to explore where our boundaries lie and then push them even further, still.
"It is in these precious moments that we can truly discover what we were born to do," Samra says.
This is Samra's third trip to this remote and isolated part of the planet in the South Pole.
His first visit was in January 2012, when he successfully reached the summit of Vinson Massif (4,900 meters), the highest mountain on the southern Antarctic continent, part of the 7-Summits challenge.
While in December 2014 he started his second trip, he became the first Egyptian to ski to the South Pole as part of achieving the Explorer's Grand Slam title, a feat that has only been accomplished by less than 40 people in history.
According to a press statment, Samra gave a speech about his trip during an art exhibition on 18 February in Zamalek. The exhibition was joined by artist Tarek Abdelkawi and gallery curator Alya Sabry, and it will showcase the trip's artistic illustrations, photography and videos.
Visitors will also be given the opportunity to interact and engage with the artwork through audio and visual experiences, as well as have the opportunity to sample some of Samra's mountaineering gear that kept him safe and warm in the world's highest, coldest and driest continent.
Making history is not a coincidence for Samra, as he was the first Egyptian and youngest Arab to climb the Everest Mountain.
In December 2013, Samra became the first Egyptian to travel in space when he won the AXE Apollo Space Academy competition in the US state of Florida, edging out 112 worldwide competitors.
Among less than 40 people in history, Samra has manged to become the first Egyptian to complete the Explorers Grand Slam, one of the greatest adventurers' challenges on the planet: To reach the North and South Pole and climb the route's seven summits.