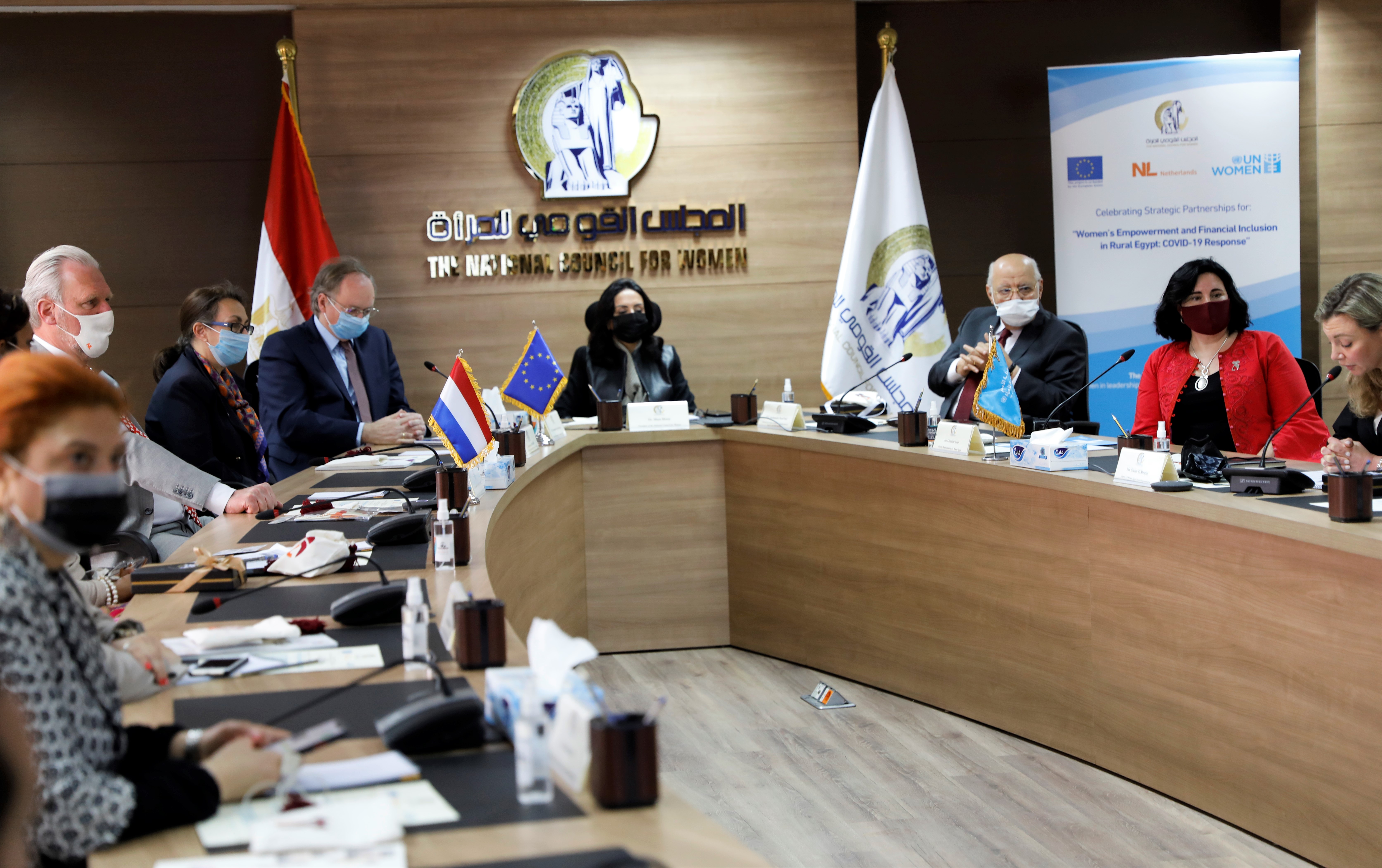 In celebration of International Women's Day on March 8, Egypt's National Council for Women (NCW), the Central Bank of Egypt (CBE), the European Union (EU), the Embassy of the Netherlands, and UN Women in Egypt launched a project to eliminate violence against women and advance women's economic empowerment in rural Egypt.
The project, titled "'Women's Empowerment and Financial and Economic Inclusion in Rural Egypt: COVID-19 Response", will seek to overcome obstacles to women's financial inclusion by improving and digitizing an already existing initiative, Village Savings and Loans Associations (VSLAs) for women.
The initiative focuses on providing more financial services to over 120,000 women in the governorates of Minya, Benisuef, Assiut and Sohag. It also supports small, women-led enterprises in these ares.
Training women to be more digitally and financially literate is also a goal of the project.
The project falls in line with Egypt's National Strategy for the Empowerment of Egyptian Women 2030 (NSEEW), endorsed by Sisi as the official government working document for the next years.
Maya Morsy, NCW's president reiterated that women's economic empowerment is one of Egypt's top priorities. "[The government] sincerely believes that empowering women means empowering the entire community," she said.
Ambassador Raouf Saad, Chairman of the National Bureau for the Implementation of Egypt-EU Association Agreement in Ministry of Foreign Affairs, praised Egyptian President Abdel Fattah al-Sisi's efforts to enhance the advancement of women in Egypt, calling his support "unprecedented".
"This project aims at attaining woman's financial inclusion and her economic empowerment to mitigate COVID-19 implications. As such, this experience could be shared with many countries, particularly, with African countries, with a view to promoting an exchange of experiences and new innovative projects in this area" he added.
The project is aligned with an NCW and Ministry of International Cooperation action plan titled"Closing the Gender Gap Accelerator", a national public-private cooperation that empowers governments and businesses to close economic gender gaps.
Additionally, it falls within the framework of the National Programme for Digital Village Savings and Loans Associations, led by the NCW and the CBE.
The EU and its member states have a longstanding partnership with Egypt in supporting gender equality in the country, with the EU funding several programs that have positively contributed to women's participation in public life and reduced violence against women.
Ambassador Christian Berger, Head of the EU Delegation to Egypt, recognized the hardships women have faced during the coronavirus pandemic and assured the EU's dedication to strengthening the protection of women and girls in Egypt.
"This new project represents an important milestone. We join forces with our long-standing partners.  We believe that this intervention will contribute to women's resilience during Covid-19 and will accelerate recovery more generally. We are convinced that with persistent and joint efforts geared at reinforcing the national agenda on women's empowerment and protection, we contribute to the overall sustainable and inclusive development in Egypt in line with the Vision 2030," he added.
By strengthening of the capacity of the NCW's complaints office, the project will also contribute to increasing awareness and providing protection to women and girls who experience or are at risk of violence. The NCW will also lead campaigns against violence against women.
UN Women Representative in Egypt, Ms. Christine Arab said that violence against women continues to be a worldwide challenge, calling it "the shadow pandemic".
"As Egypt moves from pandemic response to recovery, with the longer-term goal to 'build back better', it will be critical to keep women at the center of all efforts," she said.
Egypt was the first country in the world to issue a policy paper on "Egypt's Rapid Response to Women's Situation during the COVID-19 Outbreak", that described the situation of women and helped shape the national response to the pandemic. A "Women Policy Tracker on Responsive Policies and Programs during the New COVID-19 Pandemic" was launched by the government to monitor the implementation of these policies.