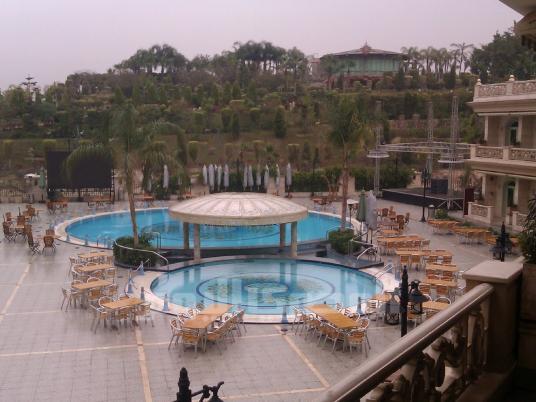 A harp with no player, a piano and no pianist, opulent seats but no people, a Garden of Eden without lovers, a playground void of children's laughter, a swimming pool but no splashing, a hotel with few guests.
There's a vacuousness about Al-Masah, a palatial hotel and spa in Nasr City belonging to the armed forces. You'd be forgiven for thinking you'd stepped into a very important person's luxurious second home, rather than a hotel run as a business looking to make a profit. Al-Masah, it would seem, is a not-for-profit kind of venture, though one strongly suspects it is not-for-philanthropy either.
You are not allowed to know anything about the hotel's origins, or even write about it, because it relates to the armed forces, its staff will tell you matter-of-factly though somewhat despondently. "I wish we could advertise the place, it needs more guests, but we're not allowed to because it's owned by the army," a staff member and military officer said.
The hotel is part of a military economic powerhouse which researchers estimate to represent from 25 to 40 percent of Egypt's economy. Besides hotels, this powerhouse includes food, cement, vehicle production and gasoline.
The visitor's only clues to Al-Masah's ownership and history are a stone plaque at the entrance and a flashy website. The hotel opened on 6 June 2006 in the presence of a familiar cast of characters: Hosni Mubarak, then president and commander-in-chief of the armed forces; Field Marshal Mohamed Tantawi, minister of defense and now head of the Supreme Council of the Armed Forces that runs Egypt; and Major General Mohamed Ameen Nasr, head of the Ministry of Defense's Financial Authority, which manages the hotel and has headquarters next door.
If it was allowed, one might ask: how was the land for the hotel acquired? Was it paid for by the MoD? If so, did the price reflect the true value of the land and hotel's vast grounds? Or was it given as a gift? Does the hotel make a profit or a loss? Is this in the national interest? How many staff members are paid and how many are conscripts? Why is it a secret?
Al-Masah ("diamonds" in Arabic) is a playground for officers and their friends, Lebanese businessmen and celebrities, foreign dignitaries and visitors, military families and those in the know: the wealthy and privileged.
Tantawi's penchant for bowling is catered for with a well-equipped alley with shiny wooden floors and brightly colored balls. There's a billiard room with leather and dark wooden furniture. It conjures up images of cigar-smoke and whiskey, but don't get carried away — Al-Masah is an alcohol-free zone. On the other hand there's plenty of Safi, the army's mildly chalky-tasting water product.
Children are catered to with a kid's play area. One game proudly says "everyone's a winner," as its sole purpose is the dispersal of cuddly toys. Hinting at the hotel's militaristic underbelly, toys for purchase include a pink robot action figure, a police van with smiley faces looking out the windows, an ambulance and a camouflaged fighter plane. A swing in the garden is labeled "Alamein," providing a geography and a history lesson for your child.
A well-stocked, though seemingly unused, library has historical, political, religious and children's titles. Among them are a picture-book on the history of the Egyptian armed forces produced by the MoD; American investigative journalist Bob Woodward's books on America's presidents, scandals and war-making in the Middle East; and biographies of former US Secretary of State James Baker and former Egyptian President Gamal Abdel Nasser.
A civilian pays US$120 for a single room — much less than at other five star hotels. Officers and their immediate family members are entitled to discounts on the hotel's facilities: wedding halls, gym, spa, numerous restaurants (with a LE75 minimum charge) and accommodation including pool-side chalets. Officers have a 10 percent discount on the total buffet bill of their wedding guests. As a civilian it is hard to come by gym and spa prices that apply to army members, but 'out-comers' as one weight-loss advertisement called non-army members, are allowed to use the facilities at the standard rate of LE2,500 for six-months. Other membership plans are available, just ask.
The gym is equipped with the usual equipment — treadmill, bike, cross-trainer and weights. On this Valentine's morning, Whitney Houston's "Exhale (Shoop Shoop)" played among other melancholic tunes, while on the TV screen lovers walked along the beach with waves crashing in the background.
Al-Masah's paradise-like gardens with rolling hills, pink and yellow flowers, palm trees and discreet pergolas provide a tranquil and romantic setting, especially at night when the foliage is lit-up and staircases are lined with fairy lights. But it's like an exclusive Al-Azhar park in which workers outnumber visitors. Gardeners dig out weeds, drivers take the emissions-free golf carts for a ride, bored waiters sit in empty restaurants watching TV and security guards stand by.
In the hotel, bellmen, bored receptionists and cleaners keeping the place immaculate also outnumber guests — it's like an abandoned mansion that staff are employed to maintain.
With so many eyes and few distractions, you get the distinct feeling you are being watched. Upon checking in, the front desk calls to check the room is okay as soon as you close the door. He must have seen on the hallway's camera. Are you being watched or is he just eager? The staff are all very polite and service is impeccable, but a phone call is intercepted by a man's deep voice, and the TV's satellite receiver looks like a mini-security camera. Stop it, you're being paranoid.
Large iridescent crystal chandeliers, marble floors, gold picture frames and sofas with oyster-shell, pistachio, light blue and purple fabrics display Al-Masah's affluence. As a souvenir, you can even purchase the furniture in your room, which is less impressive. Again, just ask.
But like all diamonds, mined by the poor and worn by the rich, one has to question Al-Masah's origins: Where has it come from and what is it being used for? And in a country where poverty prevails, what is the point in a diamond underused?