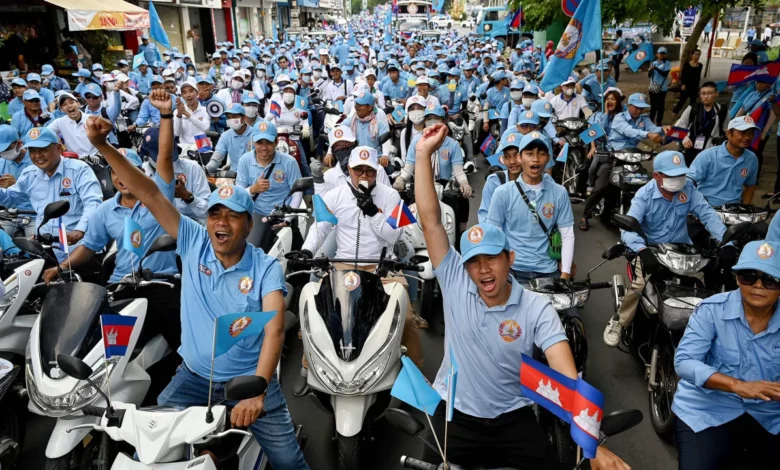 CNN
 —  One of the world's longest serving leaders is looking to extend his
iron fisted
rule, running another
tightly controlled
election with no tangible competition as he prepares a possible power succession for his son.
Cambodia's Prime Minister Hun Sen, 70, has been in power since 1985 – only the leaders of Cameroon and Equatorial Guinea, both also authoritarians, have held office longer.
Voters in the Southeast Asian nation head to the polls on Sunday for the country's seventh general election but observers predict few surprises.
Following weeks of campaigning and crackdowns on opposition figures, Hun Sen's ruling Cambodian People's Party (CPP) is all but running unopposed.
"Like all dictators, Hun Sen will never give up his power," said Cambodian politician Mu Sochua, who once served as the country's Minister of Women and Veterans' Affairs and has since fled overseas.
"The July 23 election is just a day for Hun Sen to impose (his choices) onto the Cambodian people," she said. "His ruthless policies and practices of eliminating political opponents and critics … is all to protect his power and to transfer it to his eldest son during the late stage of his career."
CNN has reached out to the Prime Minister's Office and CPP for comment.
From democracy to autocracy
Cambodia, a country of 16.5 million people, is renowned for its stunning Angkor temples but also its tumultuous recent history when the Khmer Rouge regime unleashed a genocide on its own people, an event which left families with inter-generational trauma while poverty and corruption remain deep rooted.
A former Khmer Rouge commander who switched sides, Hun Sen has ruled Cambodia for nearly four decades.
The country's elections were initially competitive and an opposition tolerated. But in more recent years Hun Sen has turned increasingly autocratic – quashing dissent and jailing critics, forcing many to flee overseas.
He has also cultivated increasingly close ties with China and railed against criticism from Western governments, which he has often accused of helping Cambodia's political opposition.
"The irony is that as Hun Sen has curbed political space at home, removing domestic political challenges he has garnered greater criticism abroad," said political analyst Bridget Welsh.
"The challenge he faces is that the election will not be seen as a democratic one – lacking legitimacy. Without a competitive election and free media and space for civil society, Cambodia is not (regarded) as a democracy."
The CPP has pointed to the participation of 17 other small political parties to support its claims of being a multiparty democracy.
But this is strongly refuted by rights groups and political observers who say all meaningful opposition parties and figures have been neutered, jailed or banned in Cambodia.
"Hun Sen is afraid to run on his record and would rather hold an empty exercise than risk a free and fair verdict on his autocratic rule," Kenneth Roth, former head of Human Rights Watch, told CNN.
'Future prime minister'
Political watchers say this Cambodian election will set the stage for Hun Sen's transition of power to his son Hun Manet.
The oldest of three, Hun Manet, 45, has been serving in the Cambodian army and has long been seen as a successor in waiting.
He grew up and was educated in Phnom Penh before joining the Cambodian army in 1995. The same year he entered the US Military Academy at West Point, earning a diploma four years later and becoming the first Cambodian ever to graduate from the prestigious school.
He has also received economics degrees from New York University in 2002 and the University of Bristol in 2008.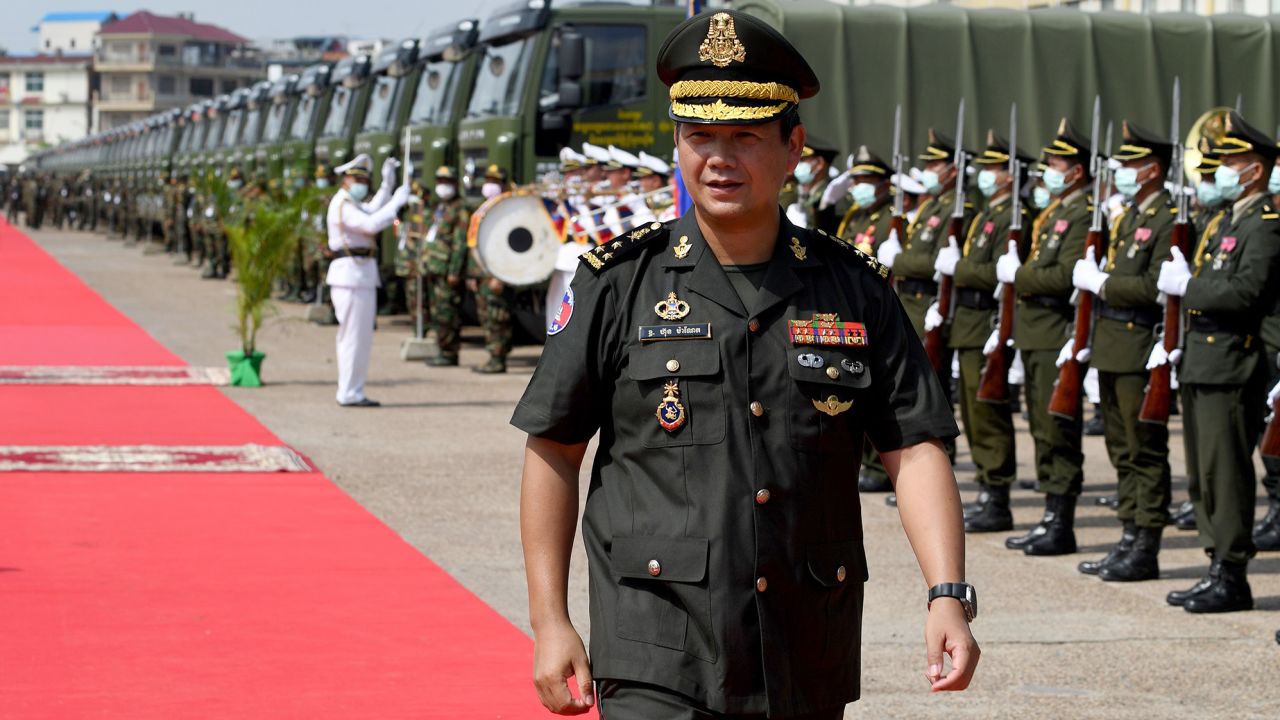 Hun Sen made clear in a 2021 speech that his son would be a "future prime minister."
This year Hun Manet will make his political debut – standing for a parliamentary seat in Sunday's election.
Welsh said Hun Manet will "need to earn his own legitimacy."
"He will have to come out of his father's shadow and set his own pattern of leadership," she told CNN. "This will be challenging as Hun Sen will remain the dominant figure in Cambodian politics and it is not clear how much he will let go of control."
Hun Manet has a first class overseas education and some popularity among younger Cambodians but he will face tough challenges stepping into his father's shoes, said German political analyst Markus Karbaum.
"Hun Sen leaves behind a poisoned political legacy of corruption and nepotism," Karbaum said.
"As long as he remains in good health, it will be very difficult for Hun Manet to step out of his shadow especially when it comes to foreign policy," he added. "He will lose massive respect on the global stage if he gives the impression of merely conveying his father's messages – a politician without power and without a mandate will not be taken seriously."
Repeat of the past, calls for boycott
Cambodia's political crackdown has ramped up in the years after its 2013 elections when an alliance of opposition parties, the Cambodian National Rescue Party (CNRP), captured more than 40 percent of the vote.
Huge opposition rallies followed as they contested Hun Sen's win, further risking his grasp on power.
Cambodia's top court banned the CNRP in 2017 while dozens of the CNRP's leaders were jailed or went into exile.
This year's elections have followed a similar playbook.
The Candlelight Party, which emerged from the little that remained of the CNRP and was the only realistic challenge to Hun Sen and his ruling CPP, was banned earlier this year by Cambodia's national election committee over an issue with its paperwork.
In weeks leading up to the election, Cambodian government officials stepped up harassment and arrests of opposition members, rights groups noted.
"The Cambodian government has declared open season on (opposition party members) using bogus and abusive criminal charges. They should stop targeting the opposition, immediately drop all baseless charges, and release all those wrongfully detained," said Asia deputy director Phil Robertson of Human Rights Watch.
Opposition figurehead Sam Rainsy, who lives in self-exile, took to Facebook to call on Cambodians to spoil their votes when they head to polling stations on Sunday.
Rainsy was banned from politics for 25 years by the Cambodian government over his campaign and Hun Sen has warned that those spoiling their votes could face punishment.
Two Candlelight Party members were also arrested this week for inciting people to destroy their ballot papers, Reuters reported.
"This election is about keeping power within Hun Sen's family and those supporting his regime," Rainsy told CNN.
"Cambodians, no matter which party they support, are being cheated of their right to cast their vote in a free and fair contest. Spoiled ballots will underline the aspiration of ordinary Cambodians to take part in real elections," he added.
With limited political options, many Cambodians have expressed a sense of both apathy and fear.
One voter, a woman in her 50s living in the capital Phnom Penh who asked to be identified by only her first name Teang, told CNN she feared consequences if she did not vote for the ruling CPP.
"I've always assumed that my vote is private but from the way (the election) has played out – can you blame me for being paranoid?"