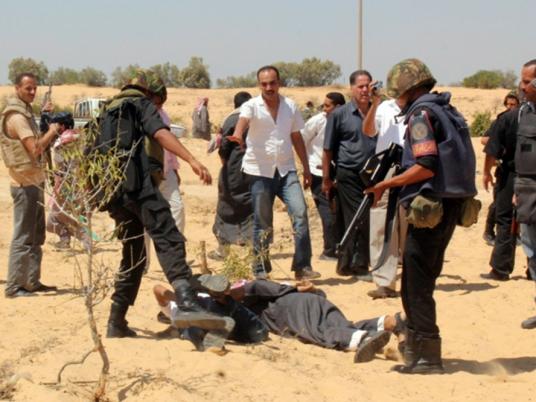 Operation Eagle will remain ongoing to confront criminals and achieve security and stability in Sinai, said senior military sources Tuesday, amid reports that it had been called off.
The sources called on Sinai citizens to inform security forces of any criminal hotspots or strangers that appear where they live.
The sources added that the Armed Forces and police are appealing to Sinai residents to hand over their weapons at the nearest security checkpoint, for which they will be compensated.
They also said security agencies have information about criminal elements hiding in Ras Sidr, a city on Sinai's western coast.
Over the last few days, conflicting reports have surfaced regarding Operation Eagle, which the Army launched after a 5 August attack near the Rafah border crossing to Israel left 16 Egyptian security officials dead.
German news agency DPA quoted witnesses Monday as saying that as of now, Sinai is quiet — particularly in the east, where the cities of Rafah and Sheikh Zuwayed are located — and that they have not witnessed any recent security raids or operations.
State-run Al-Ahram newspaper quoted a military source as saying that Operation Eagle has not been suspended. The source denied rumors that the operation was halted after the military agreed with extremist militants in Rafah and Sheikh Zuwayed to end the violence.
The Sinai Bedouins tribal youth union called on security officials to disclose information about Operation Eagle, and to prosecute officials who have been negligent or slow in protecting soldiers at the Rafah border crossing checkpoint.
In a meeting in Sheikh Zuwayed on Thursday evening, the union said the state must combat Sinai's extreme poverty if it hopes to achieve stability in the peninsula.
Operation Eagle has harmed the people of Sinai, said union member Mostafa al-Atrash. "Masked men enter our homes, and the process has become inhumane."
Edited translation from Al-Masry Al-Youm