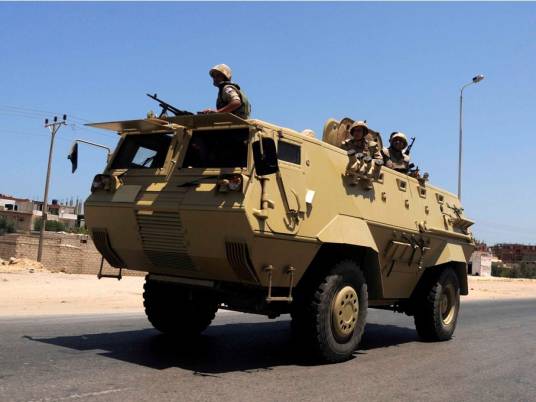 A military source said Thursday that the "zero hour" to rid Sinai of criminal elements begins Friday, which corresponds with 10 Ramadan, the anniversary of the October War of 1973.
The armed forces are cooperating with the police to face criminal elements in North Sinai, within a plan to tighten control over the situation in the region.
The source said that ten armed elements were killed and dozens others wounded in the past 48 hours.
The military campaign is equipped with heavy machinery, rocket launchers, and Apache helicopters, with tanks placed in numerous fixed and moving checkpoints.
The source added that the army had spotted all terrorist outposts, and that the criminals started to come out of their hiding places after their energy and ammunition had been depleted in the last few days.
Tribal elders are providing the troops with information about the terrorist hideouts in the mountain valleys so that they can besiege them.
The source pointed out that the demolition of tunnels along the border contributed vastly to the operation, as the militants used to carry the injured to the Palestinian side for treatment there. Some tunnels are difficult to destroy, however, as they are dug inside people's homes.
The source described the upcoming "cleansing" operation as a lifesaver for real development in the peninsula.
Participating in the operation is the Second Field Army, special parachute forces and commandos, the Navy, and the Air Force.
The police have also been on maximum alert there for more than a month.
Edited translation from Al-Masry Al-Youm