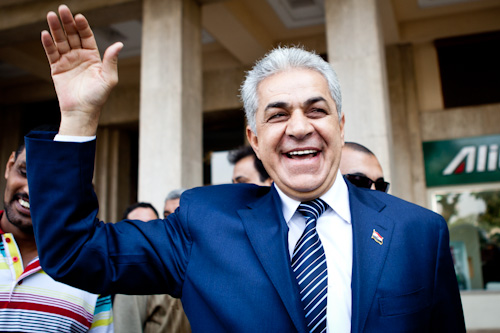 A coalition of Egyptian opposition groups is forging a common electoral platform as it seeks to capitalize on setbacks for Islamists who have dominated the country's politics since its Arab Spring uprising.
Hamdeen Sabbahi, a firebrand politician who ran for president last year, told Reuters the opposition National Salvation Front coalition could win a parliamentary majority in April if it rises above differences that split its ranks in past elections.
The well-organized Muslim Brotherhood and other Islamists could take most seats in the vote, but liberals and other opponents look likely to pose a much bigger challenge this time.
They could be aided by growing frustration at the failure of President Mohamed Morsy and his Muslim Brotherhood allies to steady an economy hammered by two years of turmoil since autocratic leader Hosni Mubarak was ousted almost two years ago.
"The front will set aside its differences now in favor of the national goal it is heading for," Sabbahi said in an interview at the headquarters of his Popular Current movement in Cairo. "Our goal is to prevent one group's hegemony in the Parliament, the government and the presidency."
Islamists won about 70 percent of seats in a parliamentary election last year, but the assembly was dissolved by court order months later because the electoral rules were deemed to be unconstitutional.
"If the elections are honest and we run with good management, which is what we expect, we will get more than 50 percent of seats," said Sabbahi, 58.
Sabbahi said the NSF, whose membership ranges from unabashed socialists to nationalists and economic liberals, was forging a common economic platform focused on principles of social justice that united those disparate ideologies.
Sabbahi came third in the presidential race last year, which Morsy went on to win. Analysts said liberals or others would have done better had they agreed on a single candidate.
New credibility
The National Salvation Front was formed as an expression of broad indignation at Morsy's bid to expand his powers late last year. It opposed his decision to hurry through a new Constitution drawn up by an Islamist-led assembly.
The basic law was passed in a referendum, but the NSF had proved it could overcome the divisions that have benefited its Islamist rivals, and emerged with new credibility on the street.
But the frontis still divided about electoral strategy, with a revolutionary youth wing opposed to allowing figures it says are linked to the Mubarak era to stand on the opposition coalition's ticket.
Some of those figures are notables in rural areas who have amassed local power and influence, helping them compete with well-funded Islamist candidates.
"Some of the parties in the National Salvation Front now can compensate for weakness in areas where there is hegemony of traditional family structures and old interests in rural areas," said Sabbahi.
Islamists have spent decades building up a national network of support through charity and other social work. But Sabbahi said the opposition was expanding its influence.
Analysts say his Popular Current has been gaining ground across the nation of 83 million, though he said the opposition's still lacked strongholds in rural areas.
Seeking to build momentum, Sabbahi said Friday's second anniversary of the anti-Mubarak uprising that erupted on 25 January 2011 would be a chance for the opposition to deliver its message about the failings of Morsy's rule.
Many Egyptians are unhappy that the government has not begun to revive creaking infrastructure. This month, a train accident killed 19 people and a building collapse led to 22 deaths.
"[Friday] is a chance for us to say that poverty is not a written destiny for the Egyptian people, and deaths due to negligence in trains and collapsing buildings are not destiny. They are the outcome of management that lacks efficiency, honesty and democracy," he said.