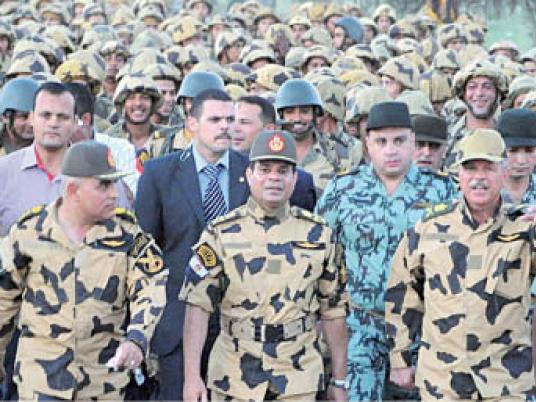 Social Democratic Egyptian Party Chief Mohamed Abul Ghar, a leading member with the opposition coalition National Salvation Front, said the front is not flirting with the army and does not want military intervention. The only exception would be a civil war, he said, in which case the military would then step in to protect vital institutions.
A number of forces opposed to the Muslim Brotherhood have pushed for military intervention to stem the growing power of Islamists, but the National Salvation Front, the main umbrella for several opposition parties and groups, has distanced itself from these calls.
In an interview with the satellite TV channel Al-Jazeera Mubasher Misr on Friday, Abul Ghar said the military left the 'political scene" for what may be a period of years, and may be forever. He added that military cannot implement a coup.
Abul Ghar talked about the NSF initiative of a shadow cabinet, saying "I don't think it would be applied soon, but if it was, it would be just in some ministries."
He explained that the front has economic and legal committees and that it does not yet have a complete program for running Egypt, reminding viewers that it was founded just months ago.
"Neither the parties' ideologies nor the front members control the front or vice versa," he said.
The NSF will continue its efforts to rescue the country from the "political impasse," Abul Ghar said.
Abul Ghar confirmed the front's unclear stance with regard to elections.
"I want to run for the upcoming parliamentary elections, if they are fair," he said adding that he does not expect the opposition to take part in the elections, so long as Interior Minister Mohamed Ibrahim and Public Prosecutor Talaat Abdullah are in office.
"No political party will be able to run Egypt on its own. There must be cooperation to find a way out from this crisis," Abul Ghar said.
Edited translation from Al-Masry Al-Youm