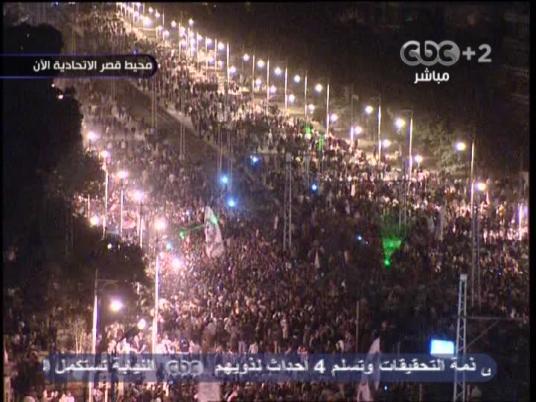 Opposition movements will protest in Tahrir Square and in front of Ettehadiya Palace Tuesday, against what they allege were vote rigging attempts during the first round of the constitution referendum.
The National Salvation Front, the main political opposition to President Mohamed Morsy and one of the main campaigners for a "no" vote on the constitution, called for nationwide protests Tuesday demanding a redo of the first round of voting, while also denouncing electoral fraud and calling for the constitution to be scrapped altogether.
In a statement Monday, the group also cited electoral irregularities and violations during the first round and pressed for better supervision during the second round, scheduled for Saturday.
Various opposition parties have announced via Facebook and other social media that marches in Cairo will begin at 4 pm from Nour Mosque in Abbasseya and Rabea al-Adaweya Mosque in Nasr City to the presidential palace, while demonstrators will march from Shubra and Mostafa Mahmoud Square in Mohandiseen to Tahrir.
The constitution's approval rate after the first round of voting stands at 57 percent, falling short of the president's expectations.
Political groups participating in the marches include the Free Egyptians Party, the Wafd Party, the Constitution Party, the Democratic Egyptian Party, the Tagammu Party and the April 6 Youth Movement, along with the Popular Current.