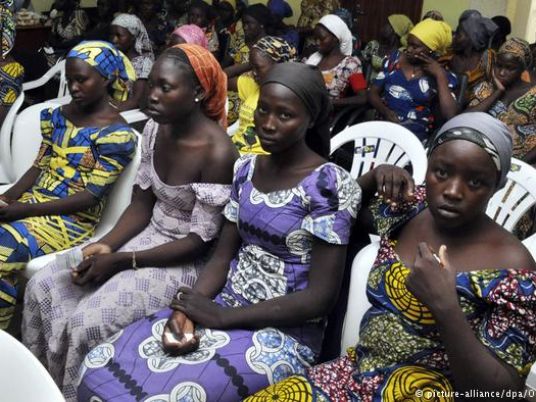 The 82 Chibok girls who arrived in the Nigerian capital Abuja by military helicopter on Sunday for a meeting with President Muhammadu Buhari were among 276 who were kidnapped on the evening of April 14, 2014 from the Government Girls Secondary in Chibok, northeastern Nigeria. They were preparing to sit high school exams.
Of the 276, 57 girls managed to escape in the hours that followed on that fateful evening three years ago. The remaining 219 were held in captivity.
Following the release of the 82 on Saturday, 113 are still missing. Security analyst Ryan Cummings from Signal Risk told DW the recent release of the some of the Chibok hostages on two separate occasions "does provide one with optimism that the Nigerian government can go ahead and secure the release of the remaining hostages."
Cummings was referring to both Saturday's release and a first group of 21 hostages who were set free in October 2016. The International Committee of the Red Cross and the Swiss government helped to negotiate the girls' release on both occasions.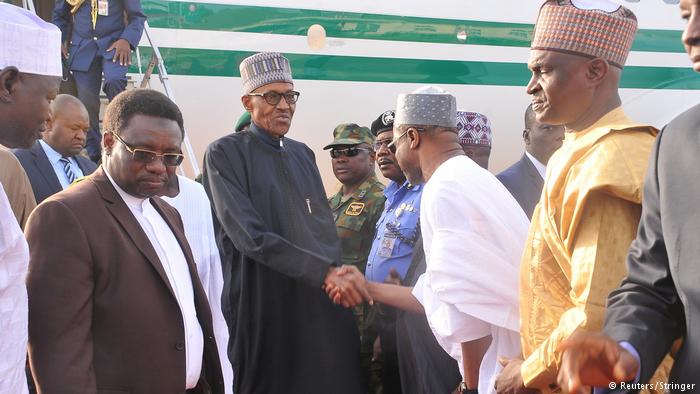 President Muhammadu Buhari (center) returning from a medical trip to London in March 2017
Human rights groups have voiced fears that some of the Chibok girls may have lost their lives as suicide bombers. Cummings says there is a counter-theory which claims that Chibok girls were treated differently to other kidnap victims "in view of how much of an asset they were to Boko Haram in terms of being a bargaining chip with the Nigerian government." It was unlikely that Boko Haram would expend such "bargaining chips" on targets such as a market in Maiduguri.
The return of Boko Haram commanders
A Nigerian government official, who declined to be identified, said the 82 girls had been set at liberty in exchange for five Boko Haram commanders. These commanders could rejoin the insurgency. But Cummings says the impact of their return will be limited, because Boko Haram is a very decentralized movement that doesn't seemingly have a very discernible command structure.
"So when you do have individuals that are being released back into the group, any impact that they may have in enhancing Boko Haram's operational capabilities will more than likely be limited to the specified area where they are deployed, as opposed to having a wide impact on the trajectory of the insurgency, " he said.
Nigeria Demonstration Bring Back Our Girls in Chibok (Reuters/A. Akinleye)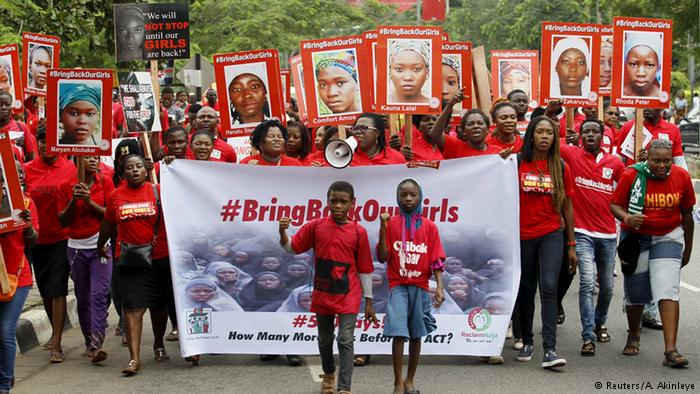 #Bringbackourgirls focused global attention on Boko Haram's insurgency in northeastern Nigeria
Boko Haram has been fighting to impose a hard line Islamic state on northeastern Nigeria since 2009. The insurgency has claimed the lives of 20,000 people and driven 2.6 million from their homes. It has also created a humanitarian crisis in northeastern Nigeria.
Although Boko Haram has abducted thousands of people during the conflict, the mass kidnapping of the Chibok schoolgirls horrified the world and the failure of Nigerian government under Buhari's predecessor, President Goodluck Jonathan, to secure the release of the girls sparked a Bring Back Our Girls movement on social media. Prominent backers included then US First Lady Michelle Obama.
The release of the 82 girls bought Buhari "some political capital" as he departed for London yet again for health reasons, Cummings said.
"The jubiliation that is surrounding the release of this Chibok girls is almost offsetting any criticism he may evoke by departing the Nigerina presidency and heading abroad for medical treatment."

Report by Mark Caldwell