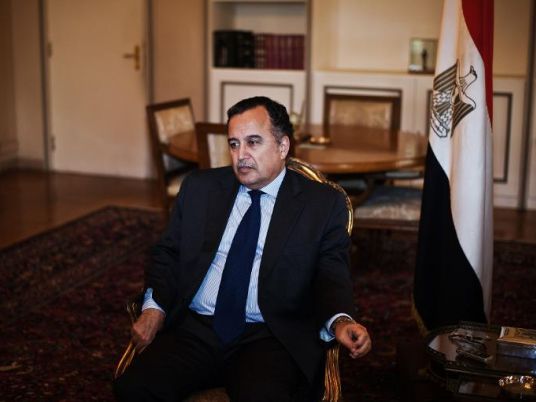 Foreign Minister Nabil Fahmy gave Ethiopia the harshest Egyptian warning to Ethiopia in relation to the dispute over Adis Ababa's dam on the Nile River.
In an interview with Tahrir satellite channel late Friday, Fahmy waved "a decisive response" concerning its Renaissance Dam, which Cairo fears would affect its shares of river waters.
Fahmy stressed on Egypt's right to "defend its national security."
Fahmy said that he spoke with his US and Russian counterparts during a conference on Libya in Rome two days earlier, and told them that "Adis Ababa should respect international laws which ensure the Egyptian people the right to defend their national security against any dangers."
Egypt will proceed through the negotiation track, the minister added. He wared, however, that if negotiations fail to bring about a solution that guarantees Egypt's water security, "Adis Ababa should bear the consequences of that crisis," adding that "the response will be decisive and at the time determined by the Egyptian people."
Ethiopia's state news agency had quoted an unnamed state diplomat as saying that Israel, which enjoys diplomatic relations with both nations, is keen on hashing out a solution for the crisis, a desire expressed during a recent meeting by Israel's irrigation minister Yair Shamir with Ethiopian PM Hailemariam Desalegn.
Edited translation from Al-Masry Al-Youm