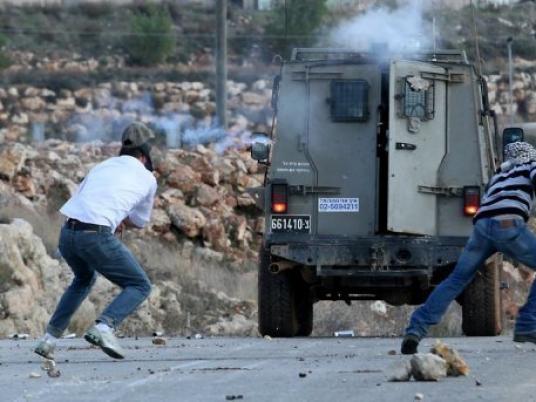 JERUSALEM — A Palestinian activist critically wounded by a tear gas canister fired by Israeli troops at a rally in the West Bank died on Saturday of his wounds, his family and Palestinian medics said.
Mustafa Abdelrazek al-Tamimi, 28, was taking part in a Friday protest against the West Bank barrier in his village Nabi Saleh, some 10 km (six miles) northwest of Ramallah, when he was hit in the face by the tear gas canister, medics said.
Critically wounded, he was immediately flown by helicopter to an Israeli hospital near Tel Aviv, where he died on Saturday morning.
A spokeswoman for the Beilinson hospital in Petah Tikva confirmed Tamimi's death.
Jonathan Pollak, a veteran Israeli activist who was at the demonstration, said Tamimi was shot at close range from a moving vehicle.
"He was shot from close range, around 20 meters, with a tear gas projectile that hit him in the eye," he told AFP on Friday.
Pollak said three other people sustained head injuries during the demonstration, which takes place every week in Nabi Saleh to protest against the route of the barrier.
A spokeswoman for the Israeli military told AFP on Friday that around a hundred Palestinians had taken part in an "illegal demonstration, during which they hurled rocks at security forces, who responded with riot dispersal means."
She said the army provided initial medical care to Tamimi and evacuated him to hospital, but could not provide further details on the incident, which she said was being investigated.
The Israeli rights group B'tselem says Tamimi is the 20th person to be killed at similar West Bank demonstrations over the past eight years. He was the first person to be killed in Nabi Saleh demonstrations in two years.
His funeral procession will leave Ramallah on Sunday morning towards Nabi Saleh.
Stone-throwing clashes have become a weekly occurrence at fixed flashpoints along the route of the West Bank barrier, which Palestinians condemn as a land grab.
Israel started building the network of metal fencing, barbed wire and concrete walls in 2002 following a wave of Palestinian suicide bombings in its cities.
The World Court in The Hague said in 2004 the barrier was illegal, citing its route inside territory that Israeli forces occupied in a 1967 war.