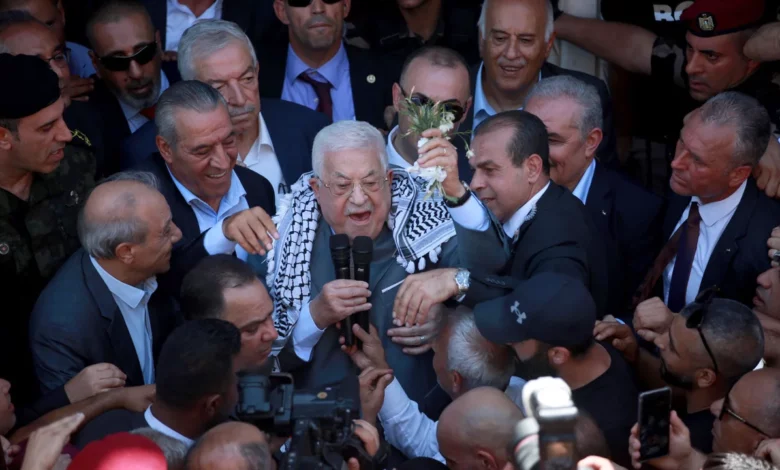 Jerusalem
CNN
 — 
President Mahmoud Abbas
, the 87-year-old veteran who has led the Palestinian Authority for nearly two decades, is trending on Palestinian social media – but not in the way he might like.
When he made a rare flying visit to Jenin this week, eight days after the largest Israeli incursion into the city's refugee camp in decades, many comments in the Facebook live feed of Palestine TV were harsh.
"Most of those cheering are his security forces. Where are the injured people?" one viewer asked.
"Good morning, you can wait for a week more, no harm," another said, in reference to the time that had passed between the Israeli pullout and Abbas's arrival.
"Those helicopters were rented," another said of the two Jordanian aircraft that brought the leader and his entourage to Jenin.
The Facebook feed recorded more laughing emojis in response to viewer comments than hearts during the visit.
And that's not the worst of it.
Abbas's speech to the United Nations on May 15 commemorating the displacement of Palestinians at the founding of Israel, known in Arabic as the Nakba, or catastrophe, triggered a wave of cynical and darkly comic social media memes and videos.
Abbas called on the international community to provide protection for the Palestinian people. In an emotional plea, he said: "We are getting beaten every day, we scream every day. People of the world, protect us! Aren't we human beings? Even animals should be protected. If you have an animal, won't you protect it? Protect us…"
His words struck a chord with many Palestinians – a deeply negative one.
For some, Abbas's comparison of their suffering to that of animals was deeply insulting, while for others, it was seen as darkly comic. His phrase "Protect us" – "Ehmouna" in Arabic – quickly became a trending topic on social media.
Videos began circulating mocking Abbas's words.
In one, a child is asked by his father what Abbas said at the UN. The boy, wriggling in the backseat of a car, childishly says "Ehmouna, ehmouna for Allah's sake" as other people in the car laugh.
A harsher video features an elderly woman cursing Abbas sarcastically and viciously, repeatedly saying "Ehmouna." She demands that he use his police and security forces to provide protection for his people instead of making a desperate plea to the international community.
Meanwhile, one of the simplest but funniest videos on TikTok, just features a man lip syncing the sound of Abbas saying "Ehmouna," exaggerating his expressions just enough to make the mockery plain.
Ultimately, these viral moments shed light on the frustrations and aspirations of the Palestinian people, caught between the conflict with Israel on the one hand and their own unpopular leadership on the other.
The Palestinian Center for Policy and Survey Research in Ramallah found last September that 26% of respondents were satisfied with Abbas as president, while 71% were dissatisfied; 74% demanded that he resign. The Center interviewed 1,270 adults face to face September 13-17, 2022, and the poll had a margin of error of three points.
The Palestinian Authority has not held presidential elections since May 2006 – repeatedly postponing votes – leaving the Palestinian people with few ways other than social media to make their voices heard.
"Protect us" was not the first time Palestinians have picked up on a hashtag related to Abbas. Another trend emerged around his calls for peaceful resistance, which many Palestinians view as disconnected from the harsh realities of increasing Israeli settler violence and frequent, deadly Israeli military incursions in the occupied West Bank.
Two Palestinians sarcastically attempt to "act as President Abbas requested" in one video. They pretend to protest against an Israeli military base built on their land, gently urging: "Go away and leave us alone."
Laughing, they conclude: "They'll be gone by noon."