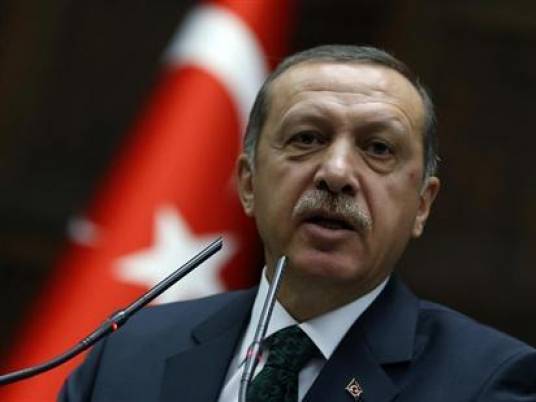 In an atmosphere of the old Turkish empire, Turkish President Recep Tayyip Erdogan received Palestinian President Mahmoud Abbas in the new presidential palace in the Turkish capital of Ankara.
The guards were dressed in uniforms that symbolized the 16 eras of Turkish soldiers from the Mongols to the Ottomans,
with swords, daggers and traditional helmets and shields.
The exotic ceremony evoked mockery in Turkey as the Turkish media called it an "unoriginal." They said that the beards and the mustaches of the guards did not represent the historical periods, and that some guards wore wigs.
Journalist Kadri Gursel of the Turkish newspaper Milliyet said Erdogan showed the greatness of modern Turkey as an Ottoman circus at the presidential palace.
Other newspapers considered it a fashion show, as reported by alarabiya.net.
Photoshop modified pictures were posted on Twitter showing Erdogan and his bodyguards surrounded by the characters of the American movie "The Avengers."
Another picture showed Erdogan and Abbas as Superman and Batman surrounded by the guards.
A blogger called the picture "Age of Empires" after the famous Internet game, according to Sky News Arabia.
Abbas was saluted by 21 cannon shots. He greeted the guards in Turkish then took pictures with Erdogan at the entrance of the presidential palace.
The reception was held on the staircase of the palace. Above it was the sun surrounded by 16 stars. The sun has been the Turkish presidential emblem since the 1920s. The Stars represent the 16 states of the Turkish empire between the 13th century and the 15th century after the fall of the Seljuk era, according to the Turkish newspaper Hurriyet.
CNN said that the Justice and Development Party, which was founded by Erdogan in 2002, follows the Islamic heritage of the Ottoman Empire where the sultans considered themselves rulers of the whole Muslim world and not just the empire.
One of the first decisions Erdogan took after he became president was to order the teaching of the old Ottoman language in schools after Ataturk had replaced it with the Turkish language.
The new presidential palace cost more than US$800 million, which also evoked criticism.
Edited translation from Al-Masry Al-Youm