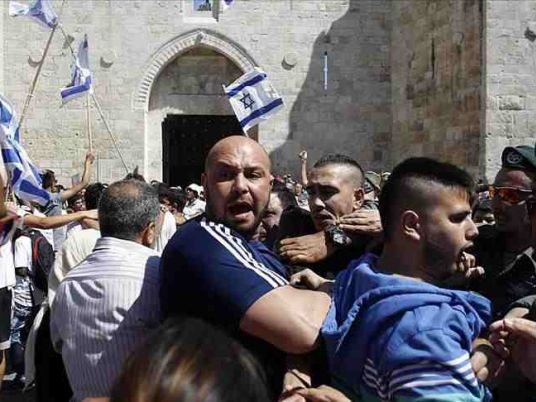 Palestinian activists warn that extremist Jewish groups in Israel — which they say enjoy the tacit support of Benjamin Netanyahu's right-wing government — are now openly calling for the destruction of occupied East Jerusalem's Al-Aqsa Mosque to make way for a "third Jewish temple".
Recent weeks have seen large groups of Jewish settlers, usually accompanied by Israeli army troops and police, forcing their way into the Al-Aqsa Mosque complex — which Jews already refer to as the "Temple Mount" — with increasing frequency.
Since the formation of PM Netanyahu's second government in 2009, incursions by settlers into Al-Aqsa have increased by as much as 2,000 percent, according to Palestinian sources.
Sheikh Azzam al-Khatib, the Palestinian director-general of Muslim endowments and Al-Aqsa affairs, recently said that, every day now, at least 40 settlers backed by Israeli troops and police force their way into Al-Aqsa "with the tacit support of the [Jewish] settlers' government" – a reference to the Netanyahu government.
"Since the beginning of 2015, more than 7,500 Jewish settlers have forced their way into Al-Aqsa, along with some 150,000 Jewish tourists coming from abroad," Sheikh Azzam told Anadolu Agency.
New facts on ground
Sheikh Azzam went on to assert that, via a policy of supporting Jewish extremist groups, the Israeli government hoped to create new facts on the ground – particularly the "temporal and spatial division" of the Al-Aqsa Mosque complex between Jewish and Muslim worshipers.
"Over the past two weeks, the Israeli police – on the government's orders – have barred Palestinian women, children and men under 40 from entering the mosque before 11am," said Sheikh Azzam.
"Israel, therefore, has already begun the 'temporal' division of the mosque [between Jewish and Muslim worshipers] amid the ongoing silence of the Arabic and Islamic world," he asserted.
Three Netanyahu-led governments – in power from 2009 to 2015 – have included several right-wing Jewish parties.
Palestinian observers say these parties provide vital financial and logistic support to extremist Jewish groups, which both organize incursions into Al-Aqsa and – provocatively – advocate for the destruction of the iconic mosque with a view to building a "third Jewish temple" in its place.
According to Ziad Hammouri, a Palestinian expert on these extremist Jewish groups, the current Israeli government uses these right-wing organizations "to stage incursions by settlers into the Al-Aqsa compound".
He went on to cite groups such as Rabbis of the Temple Mount, Women of the Temple Mount, the Temple Mount Faithful, Kahana Chai, Kach and Lahiva.
"These organizations openly call for the destruction of the Al-Aqsa Mosque to make way for what they call the 'Temple of Solomon', which they claim was destroyed in 586 BC during the Babylonian Captivity," Hammouri told Anadolu Agency.
Talmudic rituals
Hammouri went on to explain that these groups adhere to an ideology laid out in the Talmud, which – as opposed to the Torah, the Jews' traditional holy book – was compiled over the centuries by extremist Jewish rabbis.
"When these Jewish extremist groups storm the Al-Aqsa complex, they can often be seen performing Talmudic rituals," Jamal Amr, another Palestinian expert on extremist Jewish groups, told Anadolu Agency.
"These rituals, like the Talmud itself, are not based on biblical texts [i.e., those found in the Torah], but rather on the teachings of the rabbis," he said.
"They believe, for example, that God has ordered them to build Solomon's Temple on the ruins of Al-Aqsa," Amr added.
He went on to point out that the Jewish settler movement "has its own educational system based on Talmudic teachings, which include racism against non-Jews, the murder of Arabs, and the ultimate destruction of the Al-Aqsa Mosque".
For Muslims, Al-Aqsa represents the world's third holiest site after Makkah and Medina. Jews, for their part, refer to the area as the "Temple Mount," claiming it was the site of both Solomon's Temple and a second temple built during the reign of King Herod (destroyed by the Romans in 70 AD).
Government support
According to Israeli daily Haaretz, the Netanyahu government on Thursday decided to cancel $76 million out of $92 million owed by Jewish settlements in the occupied West Bank and the Golan Heights.
Meanwhile, the government has reportedly allocated tens of millions of shekels for the direct support of ongoing Jewish settlement construction.
According to Ghassan Daghlas, a Palestinian official responsible for monitoring construction of Israeli settlements, Israel's 2015 budget includes some 260 million shekels (roughly $62 million) "for the direct support of Jewish settlers in occupied Jerusalem and the West Bank".
"Part of this money," Daghlas asserted, "is meant to support incursions by Jewish extremists into the Al-Aqsa Mosque compound."
He went on to note that the right-wing Jewish parties currently represented in the Knesset (Israel's parliament) allocated some of their budget to directly supporting extremist rabbis and their activities.
Israel occupied East Jerusalem, in which the Al-Aqsa is located, during the 1967 Middle East War. It later annexed the holy city in 1980, claiming it as its capital – a move never recognized by the international community.
Only line of defense
Palestinian Muslim worshipers inside Al-Aqsa, meanwhile, constitute the first – and perhaps only – line of defense against repeated incursions by Jewish settlers.
"We don't have any weapons, but we stand against the Jewish settlers who continue to force their way into Al-Aqsa accompanied by heavily-armed Israeli troops," one female Palestinian Muslim worshiper, requesting anonymity, told Anadolu Agency.
"I come to Al-Aqsa each morning to receive religious instruction and to pray," she said.
"When the Jewish settlers force their way into the compound to perform their Talmudic rituals, all the Muslim worshipers – men and women – stand up against them," she added.
She went on to assert that, unlike the settlers, Muslim worshipers – who are often subjected to detention and beatings by Israeli security forces – did not receive financial support from anyone.
"The situation at Al-Aqsa is critical," she said. "Incursions by settlers increase day after day while the Arab and Muslim world – paralyzed by its own internal problems – does nothing."
She added: "We feel we are completely alone."