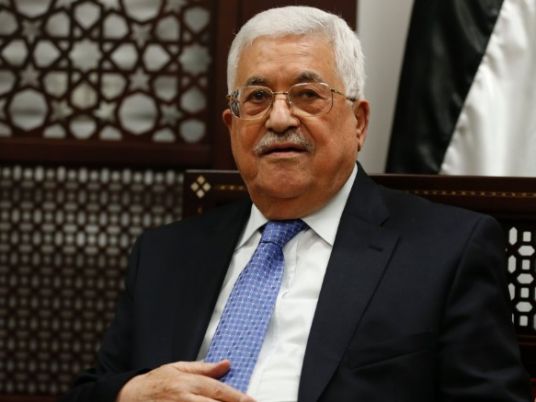 Palestinian President Mahmoud Abbas reaffirmed his commitment to a two-state solution and emphasized his willingness to work with US President Donald Trump to achieve peace between Palestinians and Israelis.
Speaking at the opening of the United Nations Human Rights Council session in Geneva Monday, Abbas called for a "Palestine and Israel, living side by side on the pre-1967 borders in peace and security."
In his speech, in which he claimed a two-state solution could bring peace to the region, he added: "The creation of the state of Palestine will undermine the driving force of terror and extremism, and we are a part of the international system combating terrorism."
Abbas also used his speech to reiterate his opposition to Trump's campaign promise to move the US embassy from Tel Aviv to Jerusalem — a promise which has since been walked back by the new administration — as well as the building of new settlement construction.
Danny Danon, Israel's ambassador to the UN, responded by warning that "speeches and actions against Israel in the international arena will not help and the only means to achieve a solution is through direct negotiations with Israel."
Abbas' speech comes after Trump's announcement earlier this month that he was looking at "two-state" and "one-state" solutions.
During his meeting with Israeli Prime Minister Benjamin Netanyahu, Trump appeared to disown the long-established US framework for achieving peace in the Middle East in pursuit of what he has labeled as the "ultimate deal."
"The United States will encourage a peace and really, a great peace deal," Trump said at a news conference alongside Netanyahu at the White House earlier this month.
Asked whether he was abandoning the idea of a two-state solution, Trump said, "I'm looking at two-state and one-state, and I like the one that both parties like."
He continued: "If Israel and the Palestinians are happy, I'm happy with the one they like the best."
Meanwhile, the embassy pledge appears to have hit the brakes.
Trump hinted that the prospect of moving the embassy's location would be part of a peace deal but gave little specifics in an interview published by Israel Hayom on February 10. This is more in line with previous White House administrations, which have all exercised the presidential waiver over the 1995 Act of Congress which calls for the embassy to be moved.
"The embassy is not an easy decision. It has obviously been out there for many, many years, and nobody has wanted to make that decision," said Trump. "I'm thinking about it very seriously, and we will see what happens."
Abbas will now await the latest on the confirmation of Trump's new ambassador to Israel, David Friedman.
Friedman, a New York bankruptcy lawyer, has caused controversy with previous comments on matters in the region.
He has supported Israeli settlements, which are considered illegal under international law and as an impediment to any future peace deal by Palestinians.
He has labeled Palestinian statehood an "illusion," raised millions of dollars for a settlement near the Palestinian city of Ramallah in the West Bank and he has launched a full scale polemic on his critics in print, referring to a liberal Jewish group as "kapos," the word for Jews who cooperated with Nazis during the Holocaust. He later apologized for his comments.
At his confirmation hearing on Thursday, Friedman walked back many of his previous public statements, saying that the two-state solution "remains, I believe, the best possibility for peace in the region" and that settlements "may not be helpful." Any future Palestinian state would ideally be "demilitarized," he said, with Israel retaining control over the border with Jordan.
Friedman pushed for a focus on Palestinian economic development instead, which many Palestinians see as a delaying tactic for coming to a peace deal.
He is expected to be confirmed in the coming weeks.