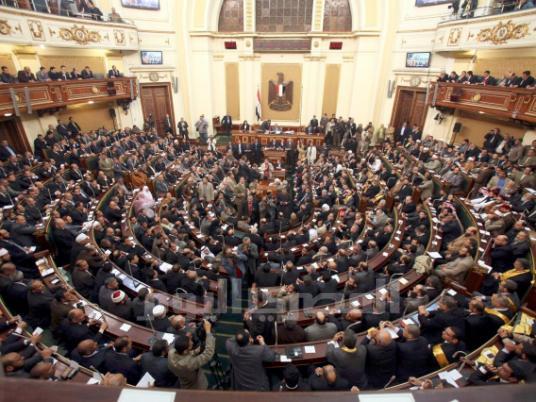 Parliament on Thursday agreed to amend the law on the exercise of political rights to bar former regime officials from running for president, in response to proposals submitted by a number of MPs.
The MPs aim to introduce an article that deprives political rights from all those who worked as president, vice president or prime minister under ex-President Hosni Mubarak during the 10-year period before he resigned on 11 February last year.
It also would apply to those who served as president or secretary general of the dissolved National Democratic Party or as members of its general and policies secretariats.
The amendment would prevent such figures from exercising their political rights for a period of 10 years from the date of Mubarak's resignation.
Parliament had held a special session on Monday to discuss a report of the Constitutional and Legislative Affairs and the Proposals and Complaints committees on two draft laws that were submitted by MPs Mamdouh Ismail and Amr Hamzawy to amend certain provisions of the law.
Hamzawy had said it is unacceptable for someone who had served under the former regime in a top cabinet or parliamentary post to run for president.
MP Zyad Elelaimy suggested ministers be included, which was strongly opposed and voted against. Some suggested, such as MP Ali Katamesh, that deputies of ministers and the representatives of the National Democratic Party in the Parliament's 2010 session be included, which was also opposed by many MPs.
Also, MP Essam Sultan had submitted draft amendments to the law to politically isolate former regime figures and prevent them from running for president, which observers deemed as an attempt directly targeting Omar Suleiman, the former vice president who announced his candidacy in the upcoming elections.
This prompted certain MPs to call for changing Article 2 of the law to avoid possible claims of its unconstitutionality.
"The law is fraught with suspicion of unconstitutionality," said Justice Minister Adel Abdel Hamid. "Only a court ruling can deprive someone of his political rights," he added, suggesting that the law be presented to the Constitutional Court.
Mohamed al-Omda said the makers of the law know it is unconstitutional.
"It would have adverse repercussions on the nation," he said.