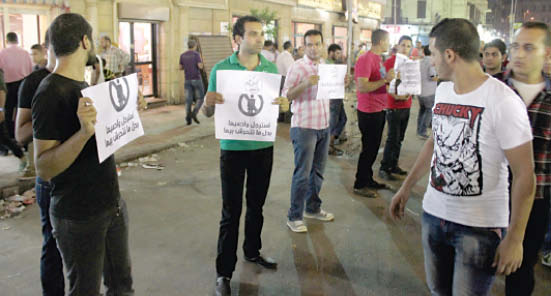 The Socialist Popular Alliance Party condemned on Thursday what it called a rash of "systematic" sexual assaults on female protesters in and around Tahrir Square over the last few months.
Attacks "have taken a more violent and dangerous twist since last summer," according to the party, which said it is the government's responsibility to better protect women.
The liberal party's statement accused the Supreme Council of the Armed Forces of assaulting female protesters "by dragging them along the ground, stripping them of their clothes and violating their bodies through detestable virginity tests." It criticized the Muslim Brotherhood's official stance on harassment as well, which it claims places the blame on female victims.
The party based its stance on reports and accounts published by rights groups and concluded that there are "organized groups that go to Tahrir to target women and torture them, in some cases raping them using pointed tools." However, it did not identify the people or groups behind the assaults. These attacks are similar to the assaults on female protesters reported in 2005 during protests against constitutional amendments under former President Hosni Mubarak, the statement alleged.
Witnesses have increasingly reported cases of sexual assault in Tahrir Square during demonstrations over the past week, and some activist groups have stepped up patrols in a bid to stem the violence. The Public Prosecution said earlier this week that it was investigating the rape of a 19-year-old woman in the square on Friday by five perpetrators who reportedly left her unconscious and badly injured.
The Socialist Popular Alliance Party called on members, supporters and political factions to combat attacks and actively address sexual violence against women, praising the role they played in the 25 January revolution. It also denounced "the state's negligence in regards to protecting Egyptian women… [and] its role in violating the rights of women who report assaults, either through collusion, passiveness or torture."
Edited translation from Al-Masry Al-Youm