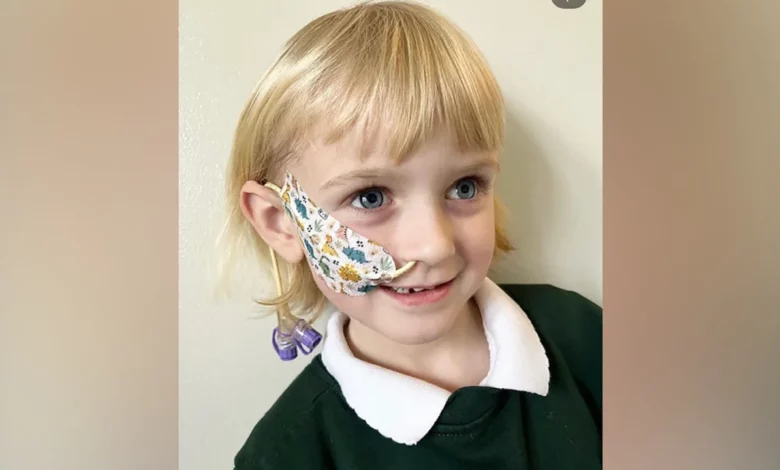 London
CNN
 —  Holly Reeves has a medical condition where she struggles to swallow food, so doctors fitted the five-year old from Devon with a feeding tube.
But Holly has asthma and if she has a serious coughing episode the tube falls out – leading to her "starving to the point of collapse" with "repeated visits to hospitals," her mother Amy Thomas told CNN.
The alternative is to have a percutaneous endoscopic gastrostomy (PEG), a flexible feeding tube which is fitted into the stomach – but her family say they were told by the UK's National Health Service (NHS) that the wait could be up to two years.
"If we had to wait another two years on an NHS waiting list – Holly might not have made it," Thomas told CNN. So, her family decided to pursue private medical treatment instead and have exceeded their £5,000 target through crowdfunding website JustGiving.
Holly will now have the potentially life-saving operation next month.
A spokesperson for Torbay and South Devon NHS Foundation Trust, said: "The NHS across the country is currently facing long waiting lists in many different specialties, and we are sorry that people in our care are waiting longer for certain procedures or treatments than we would like."
And Holly is not alone, as an increasing amount of charitable donations online are paying for private medical care.
Figures obtained by CNN from JustGiving reveal that £52.1 million (about $64.7 million) was raised through its website for private healthcare in the UK over the past three years – £11.7 million more than in the preceding three years.
NHS chaos
In the United States, people are no stranger to using charitable donations to pay for healthcare.
Unlike the universal, free-at-the-point-of-delivery healthcare provided through the NHS in the UK, the US system works off an insurance model. The standard of care is inextricably tied to your job status, leaving many unemployed and uninsured having to rely on charitable donations to pay for healthcare – or go without.
In the UK, most individuals do not have health insurance, according to Statista's Consumer Insights. Instead, Brits use NHS services, which are paid for through general taxation and National Insurance contributions. The system is premised on the idea that everybody is entitled to equal and free access to healthcare – regardless of their income.
But following years of government austerity and with an aging population placing increasing demand on its services, the NHS is in a state of crisis.
According to David Wrigley, the deputy chair of the GP committee for the British Medical Association (BMA), the NHS is underfunded and under-resourced with "little investment causing waiting lists to continue to rise."
Waiting lists for hospital treatment had skyrocketed to a record 7.2 million as of January 2023, according to the latest government data published in March.
Meanwhile, doctors and nurses are striking over pay and conditions. The BMA says junior doctors in their first year of work are paid £29,384 ($36,241) and in England have suffered a 26% cut to their pay since 2008 once inflation is taken into account.
The NHS also faces a workforce crisis. According to the latest government data, as of last December, 124,000 NHS posts are currently vacant. The BMA argues that worsening pay and conditions are a factor.
Against this backdrop, many Britons are faced with an unenviable choice: wait potentially years for NHS treatment, pay out-of-pocket or rely on charitable donations to raise money for private operations.
Go private
Figures given to CNN by crowdfunding website GoFundMe found that 67% more medical crowdfunders in March 2023 mentioned the term "waiting list" than in January 2020 – the month that the Covid-19 pandemic reached Britain.
Meanwhile, over the same time period, 56% more medical crowdfunders mentioned the search terms "private" or "privately."
John Coventry, VP international at GoFundMe, told CNN: "We are seeing more people than ever turning to GoFundMe as the NHS and cost-of-living crisis clash head-on. This data shows that, while the pressure people are under is increasing, communities are coming together to help out friends, family, colleagues and even strangers when they need it most."
GoFundMe claims on its website that it's "the leader in online medical fundraising," with one user adding, "This website rocks! I raised close to £10,000 in 48 hours for my nephew's medical needs."
'A sad state of affairs'
However, in some cases the generosity of strangers is still not enough.
In January, James Taylor ruptured his anterior cruciate ligament (ACL) in a soccer match for Harrow Borough. He was told by NHS doctors he would have to wait a year for surgery on his knee. So his manager, Steve Baker, set up a GoFundMe appeal to pay for the operation privately. Taylor raised half of the £12,000 ($14,922) he needed for treatment from donations and paid for the rest out of his own pocket.
"It took a big hit on my bank account but I had to use private healthcare to save my football career. I couldn't wait another year on a NHS waiting list. I had no other choice," Taylor told CNN.
An increasing number of Britons are paying out-of-pocket to access private healthcare directly.
Figures from Private Healthcare Information Network (PHIN), show that the number of private medical admissions for people self-paying for treatment stood at 66,000 between July and September last year – up from 50,000 at the same point in 2019.
According to the OECD, in 1990, out-of-pocket spending by UK citizens on medical expenses was equivalent to just under 0.6% of GDP, while Americans paid nearly four times as much, at 2.2%. Thirty years on, that gap has all but disappeared. US out-of-pocket spending stood at 1.9% in 2020, the most recent figure cited by the OECD, and Britons' at 1.8 %.
This is "a sad state of affairs," Wrigley told CNN. "No one should be made to feel that (paying to go private) is their only option to access care as many feel that care is inaccessible through the NHS."
"This government needs to do more to address ever-growing waiting times, which have been exceptionally high even before the pandemic, and stop pretending that we have a system that can meet the needs of patients," Wrigley added.
A Department of Health and Social Care spokesperson told CNN that "cutting waiting lists is one of the government's top five priorities, and the NHS has reduced the number of patients waiting for more than 18 months by over 91% since the September 2021 peak."