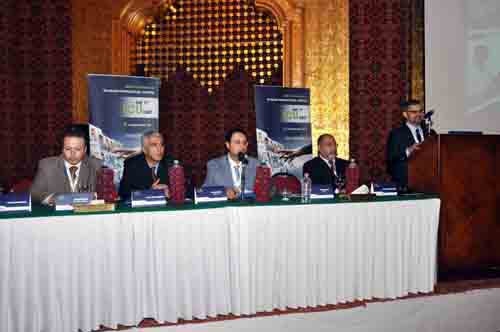 A group of prestigious critical care professors and specialized consultants were brought together at a conference last Wednesday to discuss the necessary mechanisms for raising the standards of intensive care units in Egypt and transferring know-how to Egypt through international expertise.
The first-of-its-kind conference, the First ICU Day, was organized by Salam International Hospital to announce a multimillion dollar project to create the largest acute care unit in the Middle East and North Africa region, in an effort to face the serious challenges that frequently take place in emergency and chronic cases.
Promoting closer a medical and educational relationship between Egypt and foreign countries is the first step in taking the country's critical care units to the next level.
"A number of educational missions would be sent to European countries to enhance the capacity of Egyptian physicians, and consequently deliver the highest quality work in their country and expand the capabilities of hospitals," said Raed Darwish, ICU clinical director at the hospital.
The conference hosted two leading international critical care consultants — namely Alain Combes and Steven Conrad — who are visiting Egypt for the first time to disseminate medical information about new research and technology introduced to develop ICUs.
Speaking to Egypt Independent, Combes said that this is not his first attempt to share his considerable experience from his home country of France. "I have been to several countries in the region. But, I can see a wide interest here from a diverse range of physicians and nursing team as well, which is a good indicator for a promising future," Combes said.
Besides discussing the art of dealing with critical care during the extensive one-day conference, there are plans to train ICU staff overseas, to adhere to best practices and international clinical algorithms.
"We have agreed with Combes so far to host potential physicians in his center in Paris to get to know how advanced medical devices work," said Darwish, believing that the hands-on experience is as much important as academic training. Darwish also says that financial burdens imposed to cover the enormous costs of critical care equipment are the real obstacle standing in the way of the progress of ICUs.
As a part of its effort to improve critical care, the hospital is planning to increase ICU beds from 54 to 126, along with introducing nearly LE1 million in equipment for extracorporeal membrane oxygenation (ECOM) for the first time in Egypt. The treatment functions as an artificial substitute for a dysfunctional heart and lungs, providing both cardiac and respiratory oxygen support into patients' bloodstream.
Conrad stressed the importance of the high-tech treatment as a "life saver" in severe cases.
Specialist programs for staff training are set to launch abroad starting next year, in a bid to leverage international experience before introducing ECOM technology to Egypt by 2014.