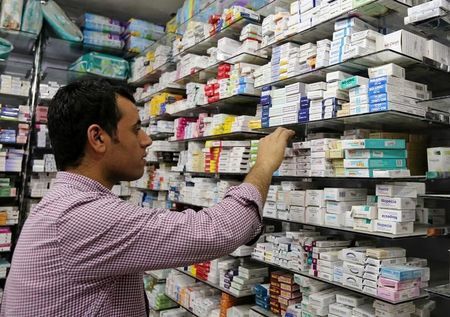 Egypt's Pharmacists Syndicate yesterday cancelled a planned protest and called off a strike that was to be held on February 12, after President Abdel Fattah al-Sisi and Health Minister Ahmed Emad Eddin agreed to fulfill its demands.
A delegation from the syndicate headed by its chief Mohie Eddin Ebeid met on Sunday with Minister Emad Eddin and they agreed that pharmacists' profit margin in the drugs must remain 25% as stipulated by the ministerial decree 499 of the year 2012.
Pharmacists had called for a strike in December against cutting their profit margins down to 18 percent from 25 percent of drug prices. This percentage is given to the pharmacies by the pharmaceutical companies.
Pharmaceutical companies have been negotiating with the health ministry since November to raise drug prices. Ever since that time, rumors have been circulating that the profit margins of pharmacists will be cut down. Pharmacists say that decree 499 has never been applied.
Negotiations between the pharmaceutical companies and health ministry earlier reached a new pricing system, raising prices by 15 percent for locally produced drugs and 20 percent for imported drugs. The increase applies to 3,000 drugs in Egypt out of the 12,000 varieties on the market.
Sunday's agreement between the pharmacists and health minister also obliges pharmaceutical companies to recall all expired drugs from pharmacies, those dated for expiry within the past year, with no restrictions or conditions.
Pharmacists have complained of losses from the expired drugs for which they say pharmaceutical companies never compensated them.
Informed sources told Al-Masry Al-Youm that the meeting between the pharmacists and Health Minister was not planned on Emad Eddin's agenda for Sunday. The sources added that the president tasked the minister to solve the crisis quickly to avoid the strike.