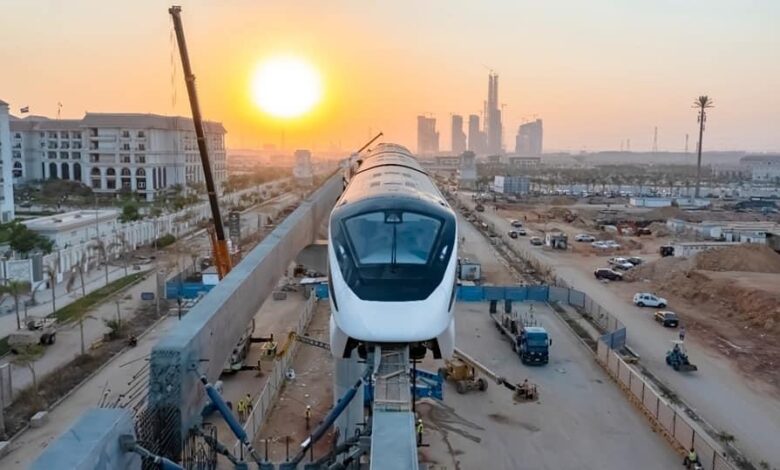 Amidst celebrations on the anniversary for the 6th of October victory, the Transport Ministry has installed the first monorail at the East Nile track in front of  of the Al-Massa Hotel at the Arts City station at the New Administrative Capital.
The ministry said that this project is a modern green form of transportation, with two out of 40 total trains that will be supplied to the East Nile monorail project having arrived so far.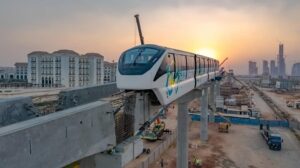 The first of 30 trains to be supplied for the West Nile monorail project (6th of October) has also arrived.
The rest of the fleet of mobile units for the two monorail projects are also being manufactured, to arrive successively according to the specified schedule.
The capacity of each of the two monorail lines is 600,000 passengers per day.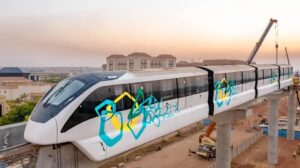 The monorail train consists of four coaches, with plans to increase the number to eight to accommodate rising population density in the new urban areas.
The monorail will help facilitate the movement of employees and visitors from Cairo and Giza to New Cairo and the Administrative Capital, in order to integrate it with the third metro line at the stadium station in Nasr City and with the electric train at the Arts City station in the New Administrative Capital.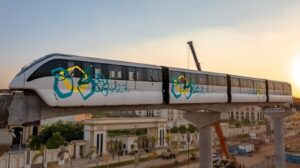 The US$4.5 billion monorail project is the first of its kind in Egypt and includes two lines: a 43 km-long rail set to extend from 6th of October City to Giza, and another rail connecting Cairo's New Administrative Capital to Nasr City at a length of 54 km.
Transport Ministry says that this type of transportation is fast, modern, safe and environmentally friendly, saves fuel consumption, reduces environmental pollution rates, relieves traffic jams on main axes and streets, and attracts passengers to use them instead of private cars.