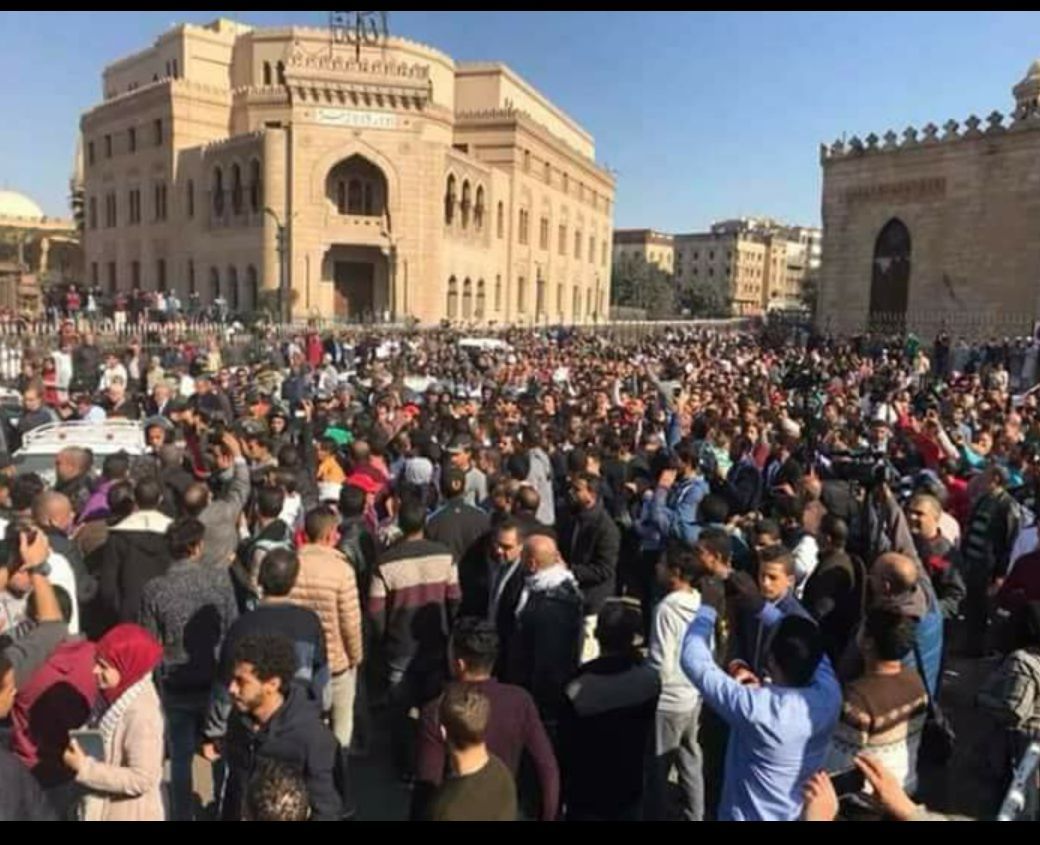 Hundreds of demonstrators gathered outside Al-Azhar mosque following Friday prayers protesting US President Donald Trump's decision to move the US embassy in Israel to Jerusalem, as he recognized the city as Israel's capital on Wednesday.
"We were initially planning to demonstrate in front of the US embassy until we found out that security forces were heavily deployed there. We decided to change the place to Al-Azhar mosque," one of the protestors, who was asked to remain anonymous told Egypt Independent.
The march took off right after prayers and moved onto Al-Azhar street. However shortly after, security forces prevented them from moving further along.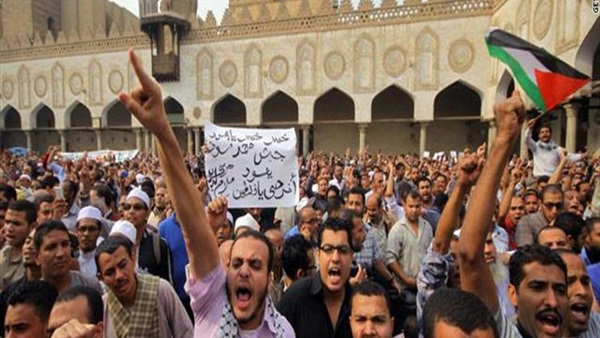 "We chanted Down with Israel, Jerusalem is Arab and Down with the US," a protester said, adding that some clashes broke out between demonstrators and the police, witnessing some being arrested.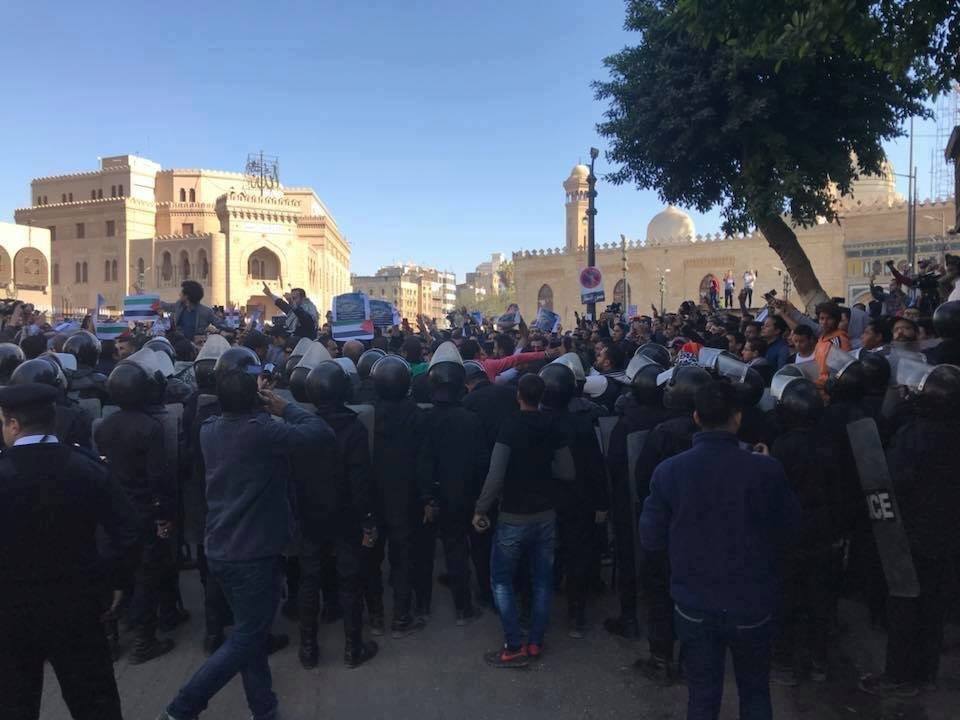 "I was there to support Palestinians and their right to have an independent state. Jerusalem is Arab and only Arab," he asserted.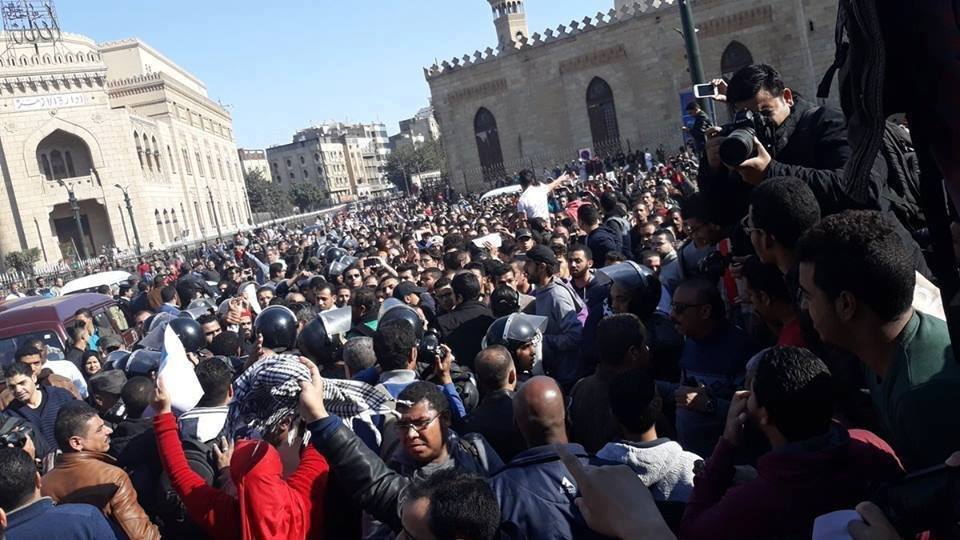 Meanwhile in Alexandria, tens of protesters also gathered at Al-Qaed Ibrahim mosque, burning an Israeli flag and chanting in support of the Arab and Islamic identity of Jerusalem, Egypt's state-run news agency MENA reported. Security forces were heavily deployed at the mosque to prevent violations, the news agency said.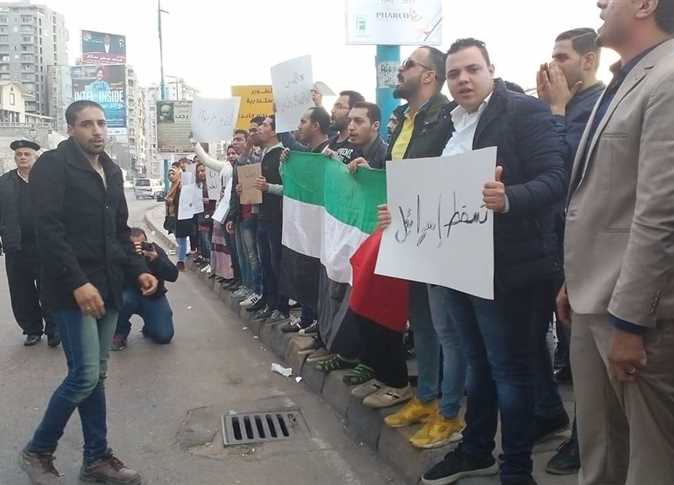 Egypt's interior ministry said in a statement on Friday that they arrested five people who are allegedly linked to the Muslim Brotherhood for forming a group called "El-Ghalaba," (underprivileged) on Facebook, in which they called on Egyptians to gather, protest, and commit violent acts against state institutions.  According to the statement, they are accused of " inflaming public opinion and undermining national stability."
The statement added that in the Facebook  group, members were allegedly informed on how to make a weapon using cement blocks with nails attached "to disrupt public order and initiate chaos."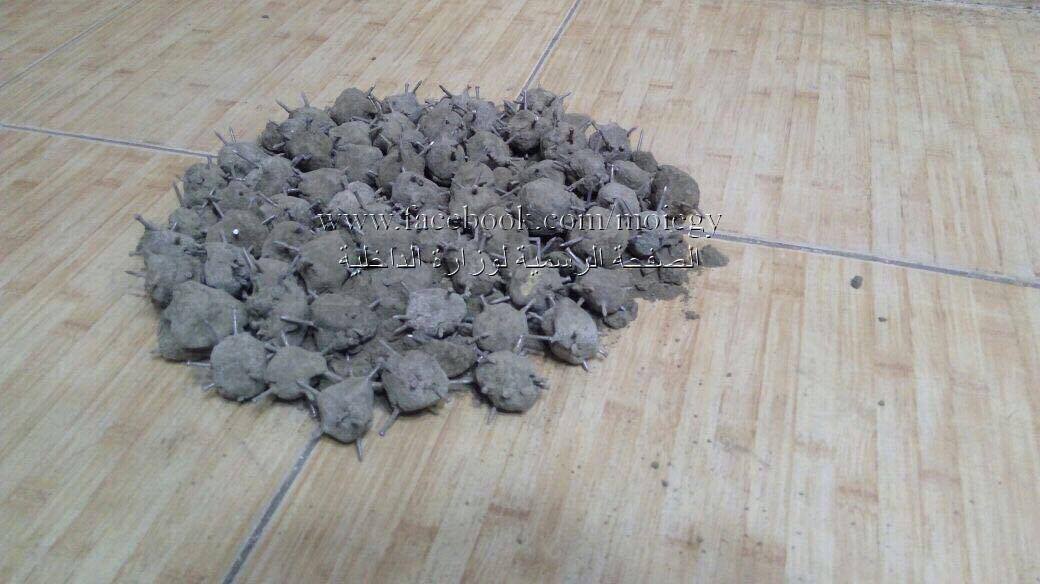 Security forces arrested five people accused of planning to use the cement blocks. 50 were confiscated, the interior ministry statement said.
On Thursday, protesters gathered in front of the Journalist Syndicate in Cairo to protest against the US decision. Demonstrators were seen burning US and Israeli flags. The protesters chanted, "Generation after generation, we consider you an enemy, Israel," and "Jerusalem is Arab," state-run Al-Ahram reported.
According to several witnesses, security forces cordoned off the area surrounding the syndicate and were seen arresting several protesters.
Egypt has condemned the US decision to move the embassy and asked for an emergency meeting of the UN Security Council to discuss Trump's US decision.
Egypt's Grand Sheikh of Al-Azhar, Ahmed Al-Tayeb, has rejected a meeting request by US Vice President Mike Pence in protest of the US decision this week to recognize Jerusalem as the capital of Israel, Al-Azhar said in a statement on Friday.