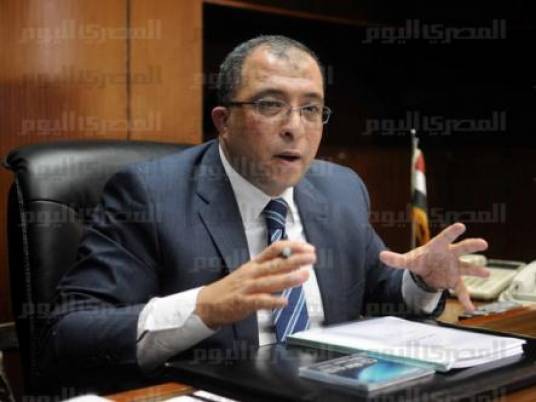 Planning Minister Ashraf al-Araby said the aid Egypt has received from Arab countries will allow the transitional government to operate without further adding to the national debt.
He explained that the country aims to develop an urgent plan to fix its economic structural imbalances and to reach concrete and swift goals, the effects of which will improve citizens' lives and contribute to the solving of important problems.
"The upcoming phase will require a reevaluation of the economic situation in the country," Arabi told London-based newspaper al-Sharq al-Awsat. "I cannot determine now the extent of the impact of political instability on the Egyptian economy. What is important is to prepare a large number of structural reforms."
"The current cabinet features a collection of the most efficient economists," he stressed. "There will be an urgent plan to solve pressing problems, to control prices and improve the quality of services."
"We need to make quick gains and rebuild the trust between the people and the government."
The government will become aware of the current needs of the country after the evaluation of the economic situation, he added. "Before the recent political turmoil, we had a funding gap estimated to be at $ 19.5 billion for the period of 2011-2012 to 2014-2015. I cannot determine the size of that gap now."
Egypt is looking for different sources of funding to bridge that gap, according to Araby. A loan from the International Monetary Fund (IMF) is one of those sources.
Araby, however, feels that the conditions in the country are different now. The situation in Egypt is not suitable for negotiation. Egypt needs some time to deal with the outside world, especially in that there is a difference of opinions about what exactly occurred in Egypt on and after 30 June, he said.
He adds that, in spite of the funds Egypt obtained from the Gulf states, Egypt still needs the IMF loan. The funds, however, will improve Egypt's negotiating position when it conducts talks with the IMF.
"Reaching an agreement with the IMF will give you a certificate of confidence, and will allow investors to trust the Egyptian economy to a higher degree. Egypt, then, can cash a part of the loan, depending on its needs," the minister said.
The government may make amendments to the state budget for the current fiscal year, according to Araby. "We will discuss the amendments made by the Shura Council to the state budget, as well as the economic and social development plan for the current fiscal year 2013-2014, to examine the impact of the amendments on these government goals during the coming period."
Araby stated that the dissolved Shura Council had written an amendment to the chapter on government investment, transmitting LE 8.6 billion from the value of investments, amounting to LE 63 billion, to be funded by governmental instruments rather than by the state treasury.
"We will need to finance those investments out of the treasury in light of the ambiguity of the law," he added. "There is a need and an important role for government investment, because it helps develop and support economic performance and it lowers levels of unemployment."
Edited translation from Al-Masry Al-Youm