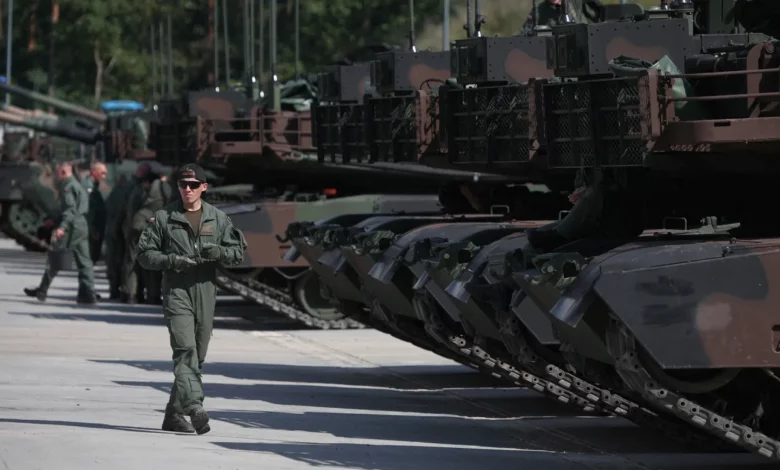 CNN – Poland is set to hold its largest military parade in decades on Tuesday, in a flex of defensive muscle that comes as tensions rise on the border between the NATO nation and key Russian ally Belarus.
Poland's Defense Ministry said the celebration of Polish Army Day on Tuesday would be marked by a showcase that includes 200 units of Polish and foreign military equipment, 92 aircraft and 2,000 service members.
The parade will include some of the latest technology Poland has in its arsenal, including US-made M1A1 Abrams tanks, South Korean K2 tanks and K9 self-propelled howitzers, HIMARS rocket launchers, Krab self-propelled howitzers, as well as US-made Patriot missile batteries systems, which are part of the Polish "WISŁA" air defense system.
Poland has emerged as one of Europe's leading military powers in recent years after pouring billions into new equipment following Russia's decision to annex the Ukrainian peninsula of Crimea in 2014. Warsaw's diplomatic clout has also grown in the wake of the instrumental role it has played in supporting Ukraine since Moscow's full-scale invasion.
Last week, Poland announced the deployment of thousands of additional troops to its eastern border as concern mounts over the presence of Russian Wagner mercenary forces in Belarus.
Poland shares borders not just with Ukraine and Belarus, but also with Russia's semi-exclave of Kaliningrad. By staging a massive showcase of power on Tuesday, Warsaw is sending a message Russia and Belarus are bound to understand, experts said.
"It's sort of a Soviet thing to do. Russia does theirs on May 8, Belarusians have them, as does North Korea, Iran. It's kind of reflecting back their language. The adversary states see these [parades] as a show of force, so Poland is going to meet it with a show of force," Edward Arnold, a research fellow at the British security think tank RUSI, told CNN.
At the same time, Poland is just two months away from major elections and Arnold said that aside from showing its capabilities to Russia and its allies, the Polish government is also seeking to reassure its own people that it is committed to security.
The governing right-wing Law and Justice party is hoping to secure a third consecutive term in power, which would be unprecedented in post-Communist Poland. But it has so far struggled to take a decisive lead over the opposition Civic Platform grouping.
"Security issues are really important, alongside the economy and living standards, which is not surprising since a war is taking place on Poland's border," Aleks Szczerbiak, a professor and the head of the politics department at the University of Sussex in England, told CNN. "Demonstrating their competence on security is absolutely critical to the government's reelection," he said, adding that the issue cuts across the political spectrum.
"Nobody is going to say that military security is not an important issue and that we shouldn't be strengthening the military. [The opposition] will say the government is putting on this parade as a kind of an election stunt, but they won't say, you know, boosting the Polish military is unimportant."
Poland's role within NATO has changed dramatically in the past decade, according to Jamie Shea, a former NATO official, a professor of strategy and security at the University of Exeter, in England, and a fellow at Chatham House.
"If you if you look at NATO 10 years ago, before Putin annexed Crimea and [launched the invasion of] Ukraine, NATO's primary focus was mostly Middle East, Afghanistan and those kinds of missions in which Poland participated, but only to a small extent," he told CNN. "But since 2014, with NATO swinging back to focus on Central and Eastern Europe …. the importance of Poland in the alliance has gone up massively."
Arnold said the power shift among NATO's European members is noticeable. "The leadership used to be the UK, Germany, France, and then together with the US, the Quad, was the group that sort of decided things and that became NATO policy," he said.
With the UK out of the European Union and Germany still hesitant to take on a leadership role on Ukraine, Poland has sensed its opportunity.
"[They've] got very good relationships with the Baltics, are very vocal on defense and security issues and Russia has always been a major threat … so if you're thinking about this from a Washington point of view, then Warsaw looks like a good bet," Arnold added.
The linchpin of the West's support for Ukraine
Poland has dramatically increased the amount it spends on defense in recent years, from less than 2 percent of its GDP in 2014 to four percent this year, according to official NATO statistics. That makes it the biggest spender in terms of GDP share, above the US. Crucially, more than 50 percent of Poland's investment is into new equipment and research and development.
"If they stay on track with all of these different procurement plans, they are going to be the EU's and NATO's European military superpower," Shea said. "By one calculation, if they purchase all of the tanks from the US, the Abrams tanks, and the tanks they've ordered from South Korea, plus modernizing what they have at the moment, they're going to have more tanks than France, Germany, Italy and the UK combined," he said.
Poland has emerged as a key ally for Ukraine, which makes it vulnerable. Most Western military equipment and other supplies gets to Ukraine through Poland and the country is hosting 1.6 million Ukrainian refugees, according to the United Nations.
"The whole linchpin of the Western efforts to support Ukraine and keep it in the fight crucially depends on Poland," Shea said. "Much of the training of Ukrainian soldiers is taking place in Poland and the Poles have also been setting up a number of repair shops, where the Leopard tanks can be fixed and sent back, and a lot of Ukrainian soldiers who are wounded are treated in Polish hospitals," he explained.
At the same time, the government is ready to prioritize its voters. "Law and Justice has shown that it is willing to upset Ukrainians big time where it feels that the alternative would be to alienate Polish farmers," Shea said, pointing to Warsaw's decision to ban imports of grain and other food products from Ukraine following a surge in cheap goods. Warsaw is now trying to extend the ban.
And while Poland's clashes with the European Union over issues including the rule of law and migration have not gone away, Warsaw is making it clear to its allies they need its military powers.
"The current government's relationship with the EU is pretty fractious, particularly on justice and home affairs issues and other issues as well. But [Poland] wants to try and minimize those viewpoints and sort of emphasize to the EU that [they] make a really big contribution to security and they don't want to jeopardize that in any way," Arnold said.
Belarus tensions
Recent events in Belarus have shown that the risks Poland is facing are not purely hypothetical.
In November, two people were killed in eastern Poland, about four miles (6.4 kilometers) west of the Ukrainian border, by a Ukrainian missile defending against incoming Russian fire. Ukrainian and Polish officials described the incident as an accident and blamed Russian aggression for their deaths.
Russia used Belarus as a staging ground when it launched its full-scale invasion of Ukraine in February 2022. More recently, thousands of Wagner mercenary fighters were reportedly sent there last month as part of a deal to end the group's armed insurrection against the Kremlin.
Belarusian President Alexander Lukashenko asked the group to help train his country's military, and earlier this month the two forces held joint training exercises near the Polish border. It was during these drills that Warsaw accused two Belarusian helicopters of violating the Polish airspace.
In reaction to the incident, Polish Defense Minister Mariusz Blaszczak told public radio that 10,000 soldiers will be sent to the border – 4,000 would directly support the border guard and the remaining 6,000 would be in reserve.
Belarus has weaponized the border in the past. In 2021, Lukashenko was accused of manufacturing a crisis there by flying migrants from the Middle East to Minsk and then sending them to the EU border in retaliation for Europe's sanctions on his regime.
CNN's Antonia Mortensen, Martin Goillandeau, Catherine Nicholls, Isa Soares, Anna Gorzkowska and Jessie Gretener contributed reporting.