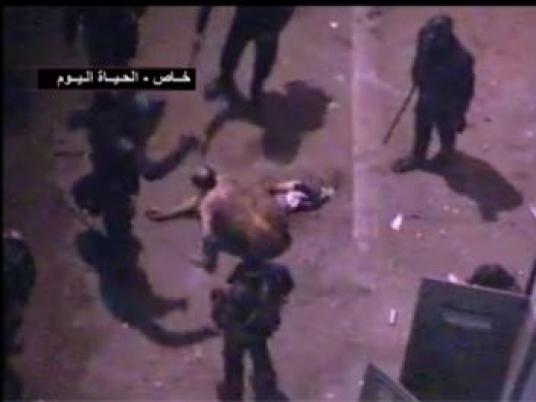 Police forces dragged a protester during the Ettehadiya Palace clashes on Friday night, stripped him naked, and beat him up with batons. He was later taken to a security truck.
Al-Hayat television network captured the incident on video, which went viral online. The video raised wide criticism among activists and opposition politicians, who slammed the administration of President Mohamed Morsy for tolerating the security's excessive use of force.
Ministry of Interior Spokesperson Hani Abdel Latif said that the minister ordered an immediate investigation into the case. He added that the ministry refuses such violations, regardless of the kind of pressure under which the policemen have been put.
Clashes between the security and protesters started this afternoon by the Presidential Palace following a day of protests and marches that were called by several opposition groups.
Central Security Forces and Republican Guards shot water cannons, tear gas and bird shots at protesters, who hurled Molotov cocktails, setting the area around Gate 4 of the palace ablaze.