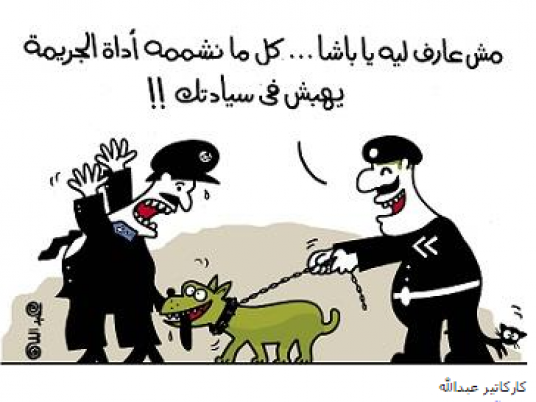 "The police are at the service of the people" is the slogan of the Interior Ministry. But it seems quite a few officers prefer the slogan: "the police rob the people," given the theft, fraud and forgery that has been practiced against the citizens, who should be protected from thieves and criminals in the first place. In other words, the protector has become the robber.
Al-Masry Al-Youm has monitored the sentences against police officers for crimes related to robbery, kidnapping and bribery, in addition to other cases still under investigation.
In 2015, the Cairo Criminal Court sentenced a police officer to three years in prison for taking a bribe of LE25,000, in return for a number of services.
In Hurghada, a court sentenced a police officer to six months in prison and fined him LE500 for trying to kidnap an owner of a bazaar shop when the latter did not pay him back the borrowed money.
In Sohag, a criminal court sentenced a police officer to 10 years in prison for kidnapping his sister in law's son and demanding a ransom of LE250,000.
In New Cairo, a court sentenced a police officer and a corporal to 18 months in prison for stealing cars in Rehab City by towing them with the official police winch.
As to cases still under investigation, three police corporals and two officers in Cairo are being interrogated on charges of taking bribes in return for canceling traffic tickets, while another officer in Khanka is charged with robbing citizens coming out of banks.
In Abdeen, a police officer was detained for four days pending investigation on charges of driving a car that was reported stolen, while another in Beheira was charged two years ago with stealing cars.
In Daqahliya, two officers are being interrogated on charges of car theft.
In Giza, an officer is being investigated on charges of profiteering.
In Gamasa, two police officers are being investigated for allegedly taking a bribe from a contractor.
In Hurghada, an officer of the Tourism Police is charged with kidnapping and raping a tourist.
In Matareya, an officer is charged with arms trafficking and smuggling.
On January 10, a forensic report revealed that two police corporals raped a student in a police car in the Teraa Boulakia district. Their trial is set for June 1.
On March 15, 2011, Interior Minister Mansour el-Essawy dissolved the State Security Investigation Bureau in response to demands of political forces after the 25 January revolution. He replaced it with the Homeland Security Agency.
Videos on the Internet were posted after the bureau was stormed, showing instruments of torture inside of the facilities. Sayed Bilal, a young man from Alexandria, was tortured to death during investigations of the bombing of the Two Saints Church. Osama al-Kanasy, an officer of the State Security Investigation Bureau in Alexandria, was sentenced to 15 years in prison for killing him.
But the National Security Agency has proven to engage in the same practices: torturing defendants to force confessions. Two officers have recently been referred to a criminal court on charges of torturing a lawyer named Karim Hamdy to death, according to the forensic report that has traced a brain hemorrhage and injuries in different parts of his body.
This was not the only incident, as the Nozha Misdemeanor Court sentenced two officers of the agency to two months in prison and fined them LE5,000 for breaking into an apartment of an engineer and detaining him unlawfully together with his brother.
National Security Director Magdy Abdel Ghaffar said in a televised interview in December 2011 that the agency was formed to protect the citizens and not the regime, adding that it no longer contained an interrogation department like the one before, which interfered in personal freedoms of citizens. This contradicts what happened to Karim Hamdy.
Meanwhile, the National Council for Human Rights received dozens of complaints about torture in prisons and places of detention. When a delegation inspected the Abu Zaabal prison on March 19, its reformed confirmed the sad reality.
Council member Salah Sallam said prisoners are detained in disciplinary cells for periods ranging from one week to 16 days, prohibited from receiving visitors or taking breaks in the courtyard. "There are cells as small as 70 square centimeters," he said.
Council President Mohamed Fayek said he had sent the report to the prosecutor general to open investigations, adding that the prisoners were told by the guards not to talk about their conditions, or they would be punished.
Following the instructions of the prosecutor general, prosecutors have inspected police stations and prisons in various governorates.
The Interior Ministry has issued a statement in response to the Al-Masry Al-Youm report, failing to refute it and saying it is serves the people within the scope of the law.
Edited translation from Al-Masry Al-Youm