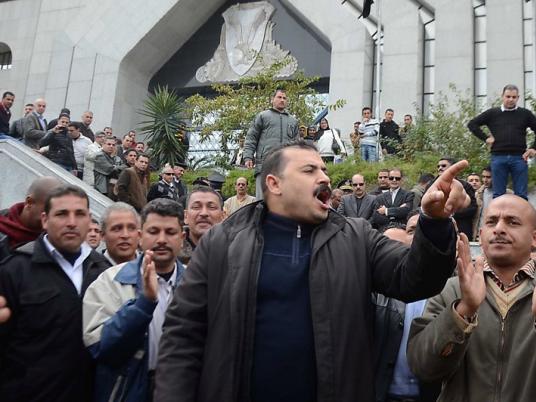 Police officers continued to protest across Egypt on Wednesday urging the removal of Interior Minister Mohamed Ibrahim and demanding officers be allowed to carry guns.
Police officers at the General Traffic Department in Daqahliya went on strike, closing the doors of the authority in protest against recurrent attacks on officers as well as their lack of arms. They also called for higher salaries and medical care.
In North Sinai, dozens of police officers staged a sit-in in front of the security department in Arish to call for better pay and expressed solidarity with protesting police officers throughout the country.
In Assiut, hundreds of members of the Police Officers Coalition continued their strike for the second day, put up tents in front of the security department and blocked the road. Police officers closed the Abu Teeg and Manfalut police stations to call for the "cleansing of the Interior Ministry."
Ahmed Gamal, coordinator for a coalition of low-ranking police officers, said the protest is an escalation meant to stress their demands, which include promotions, medical care and the elimination of corruption.
In Monufiya, the Police Officers Coalition said it is continuing protests against the new protest law restricting demonstrations, saying it entrenches hostility toward the police.
Edited translation from Al-Masry Al-Youm