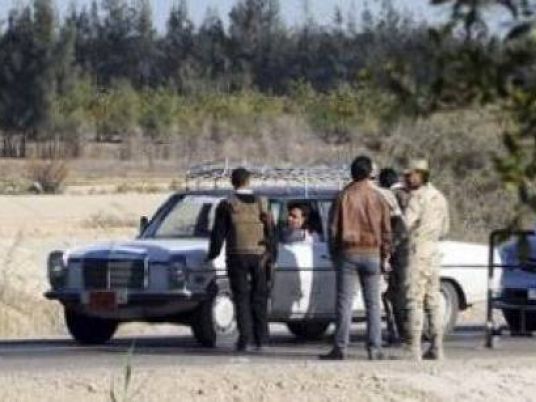 A policeman were killed and two others injured in an attack by gunmen in Arish city, North Sinai governorate, on Thursday.
Security services were notified about the killing of policeman Tamer Abdel Naby, 33, and the injury of Ihab al-Sayyed, 48, and Shaaban al-Sayyed, 31. All three were attacked by gunmen on Bosta Street an Arish.
The three victims were transferred to the military hospital.
Security forces are conducting a man-hunt to track down the killers, who are thought to be linked with the ongoing Islamist insurgency.
Meanwhile, in a separate incident, four citizens were injured as gunmen opened fire at their vehicle. All the casualties have been taken to hospital. No further details of the incident have been supplied.
Egyptian military and security forces have been battling a mounting insurgency in Sinai since the removal of former President Mohamed Morsi in June 2013. Militants linked to the Islamic State terrorist group frequently conduct ambushes, mortar attacks and roadside bomb attacks in the North Sinai governorate.
In one of the largest single attacks, at least 15 police personnel were killed in an assault on a checkpoint in Arish, North Sinai. According to news reports, the attack was initiated by a car bomb at the checkpoint, followed by mortar fire.
Militants from the Sinai Province terrorist group, which is affiliated to Islamic State, later claimed responsibility.
In a typical attack, militants will detonate explosives and then fire on ambulance crews when they arrive to treat the casualties.
Police officers often come under attack in urban areas, with masked gunmen opening fire in drive-by shootings. While the insurgency is mainly confined to North Sinai, several shooting attacks on police personnel have also taken place in Cairo in recent years.
Edited translation from Al-Masry Al-Youm