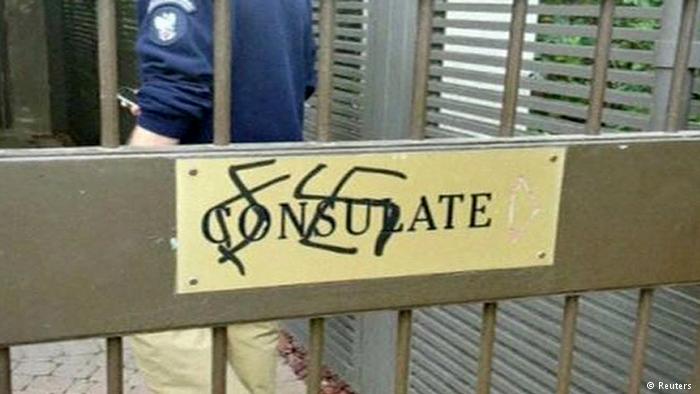 Israeli police released photographs on Sunday of graffiti scribbled onto the gate of the Polish embassy in Tel Aviv, which included Nazi swastikas and the word "murderer."
Police spokesman Micky Rosenfeld tweeted photos of the graffiti under the caption, "Police units searching for suspects in Tel Aviv after graffiti written on the entrance of the Polish embassy. Investigation continues."
What is the background?
The incident came just a day after Poland's Prime Minister Mateusz Morawiecki prompted outrage in Israel for equating Polish collaborators in the Holocaust to supposed "Jewish perpetrators."
At the Munich Security Conference (MSC) on Saturday, Morawiecki was asked by an Israeli journalist if Poland would consider him a criminal if he reported that Polish neighbors had betrayed his Jewish family to the Gestapo, Nazi Germany's secret police.
The Polish prime minister responded: "It's extremely important to first understand that, of course, it's not going to be punishable, not going to be seen as criminal to say that there were Polish perpetrators — as there were Jewish perpetrators, as there were Russian perpetrators, as there were Ukrainian … not only German perpetrators."
He later backtracked from his remarks on Twitter, writing: "Dialogue about this most difficult history is necessary, as a warning. We will conduct such dialogue with Israel."
Why this is important: Morawiecki's comment reignited the countries' diplomatic dispute over a controversial new Polish law, which allows the government to jail anyone who, "publicly and against the facts," suggests Polish involvement in Nazi war crimes committed during World War II.
How did Israel react? Israeli Prime Minister Benjamin Netanyahu said his Polish counterpart had shown a "lack of understanding of history and lack of sensitivity to the tragedy of our people." The two leaders also spoke on the phone on Sunday. Netanyahu's office later issued a statement, saying the prime minister had "pointed out that the goal of the Holocaust was to destroy the Jewish people and that all Jews were under sentence of death."
What does Poland's new law say? The law criminalizes ascribing blame for crimes committed by Nazi Germany to the Polish nation. Anyone found guilty could face a maximum sentence of three years. Morawiecki reiterated that the law made clear "there were no Polish death camps … There were German Nazi death camps."
How has Germany reacted? Germany has repeatedly taken full responsibility for the Holocaust, with Chancellor Angela Merkel reiterating that Nazi Germany was responsible for the atrocities committed during World War II.