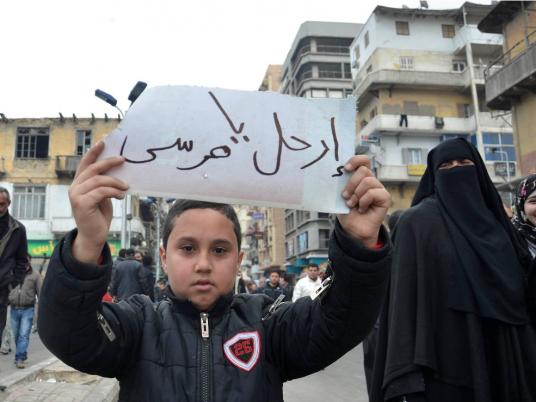 President Mohamed Morsy's popularity has hit a record low, with approval ratings for his performance dropping to 49 percent this month, down from 53 percent atthe end of January and from 78 percent at the end of his first 100 days in office early October, according to a local opinion poll.
The poll numbers, released by the Egyptian Center for Public Opinion Research, mark the first time that less than half of Egyptians approve of Morsy's performance.
The figures show a drop in approval rates among respondents with a university degree to 35 percent, compared to 54 percent for those with a high school diploma or technical degree.
Just over a third of Egyptians — 35 percent — are ready to reelect Morsy if fresh elections were held immediately, a drop from 39 percent in January and 58 percent in early October.
According to the poll, 35 percent of Egyptians have also never heard of the National Salvation Front, the country's leading opposition coalition. The number is higher in rural areas, at 45 percent, compared to urban areas, where it is 24 percent. Half of those who did not finish high school had not heard of the NSF, compared to seven percent of people with a university degree or higher.
Among those who are aware of the NSF, only 35 percent support its policies, while 53 percent oppose them, and 12 percent remain undecided.
NSF supporters and opponents gave mixed assessments of its performance, with 12 percent saying it is "good," 33 percent saying it is "mediocre," and 42 percent saying it is "bad."
Amr Moussa topped respondent's selections for favorite NSF leaders at 19 percent, followed by Hamdeen Sabbahi at 12 percent and Mohamed ElBaradei with only 6 percent. Meanwhile, 27 percent believe all three make bad politicians, while 29 percent said they could not decide.